We all have someone special in our life who is always in the kitchen and loves baking. Now, cheer up your passionate baker loved ones with our themed collection of gifts specially designed for cake makers.
Here's an exclusive range of cake making gifts that will surely delight them. They'll love to use it over and over again. Besides this, this collection of gifts includes everything necessary to bake and decorate a cake beautifully.
We have got an ideal range of cake making gifts that suit the taste of every cake maker. From innovative cake decorating kits to beautiful cake tins and stands, this range includes all the bake wares required for cake baking.
Definitely, this wonderful collection of cake decorating gifts will add a stylish look to your baking equipment. So, find your ideal match from this thoughtful designer list of presents for cake makers.
1. Multi-Colour Cake Tins
Keep your delicious baked goods fresh for the next meal with these beautifully designed cake tins. This set of multi-colour cake tin comprises 3 tins perfect to store a variety of cakes.
Interestingly, one can utilize these tins for many purposes like storage and serving of cakes. Furthermore, all these tins are the products of the tableware collection and will surely add a new stylish look to your tabletop.
In addition, it is a beautiful themed surprise for your cake maker loved ones. Present them an adorable cake gift and let them know how special they are for you.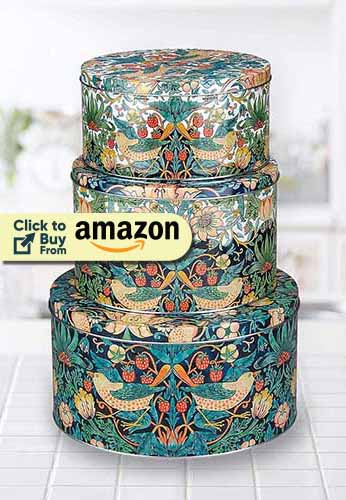 Short description of this product:
A set of 3 nesting multi-colour cake tins
Perfect storage tins for cakes
The size of large cake tin is 26cm (D) and14cm (H)
The size of medium cake tin is 21cm (D) and 12cm (H)
The size of small cake tin is 20cm(D) and 10cm (H)
Moreover, deeper than ordinary cake tins
But, not dishwasher safe
Hand wash only
2. Cake Steamer for Cake Craft and Cake Decorating
Now, give a smooth and glossy finish to your cakes with a cake steamer. It is a creative and easy way to remove extra icing sugar, fingerprints, or corn flour from cakes.
Furthermore, this steamer is perfect to give your cakes a professional touch. So, steam your cakes and cupcakes and decorate them expertly. No doubt, it is a perfect handy gadget for all baking artists and cake decorators.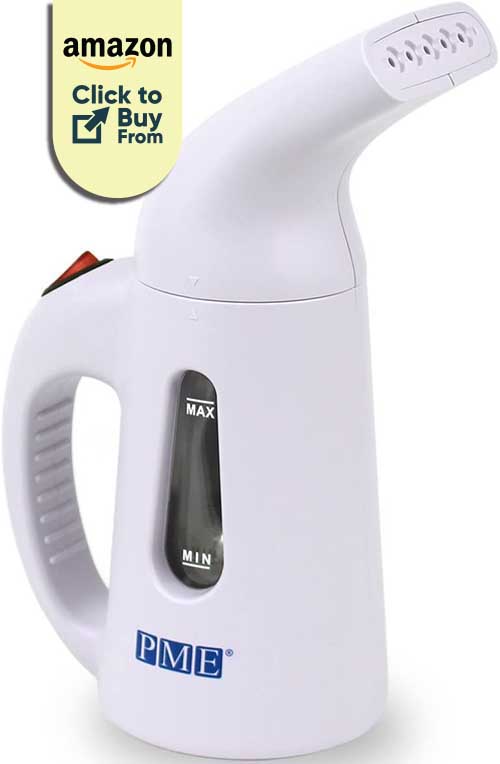 Product description:
A perfect cake decorating tool for baking experts
Now, remove your extra powdered sugar, syrup, or chocolate from cakes with a steamer
In addition, this steamer is also perfect to set colours onto flowers
Easy to use
And, it releases a constant stream of steam
Sturdy and durable cake steamer
3. Cake Décor Striped Cupcake Frostings
Decorate your cupcakes with a ready-made cake décor striped frosting pack that contain 4 tubes of different flavours. Now, create pretty cupcakes with delicious frosting and impress your family friends and loved ones.
Additionally, a decorating nozzle is already attached to these frostings that makes them easy to use. Each tube is filled with two different flavors that give your cupcakes an attractive look.
You may also Like: Personalised Baking Gifts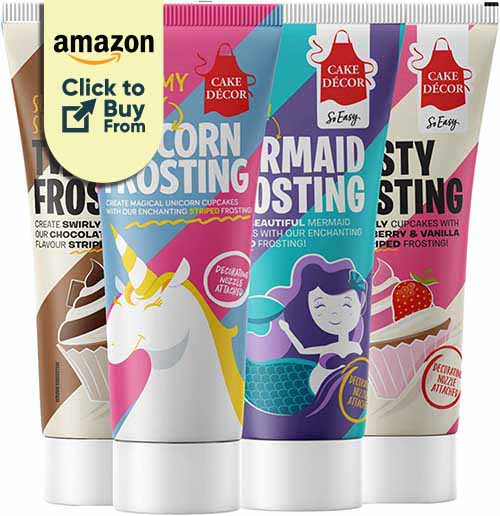 Frosting flavours:
Unicorn frosting 275g, filled with a pink and blue frosting having a raspberry flavour
Mermaid frosting 275g, features purple and blue frosting
Chocolate and Vanilla frosting 275g
Strawberry and Vanilla frosting 275g
Overall, a perfect gift for cupcake lover or a cake maker
But, not suitable for vegetarians
4. Cake Decorating Supplies Kits
A wonderful cake decorating kit that contains everything necessary to decorate a delicious cake. It contains a cake turntable, icing spatula, nozzles, cake scrapers and much more for an avid cake maker. Now, give a professional finish to your baked masterpieces with this stylish cake decorating cake kit.
Moreover, it is very easy to use and will surely improve your baking expertise. No doubt, it is a perfect gift present for any cake maker.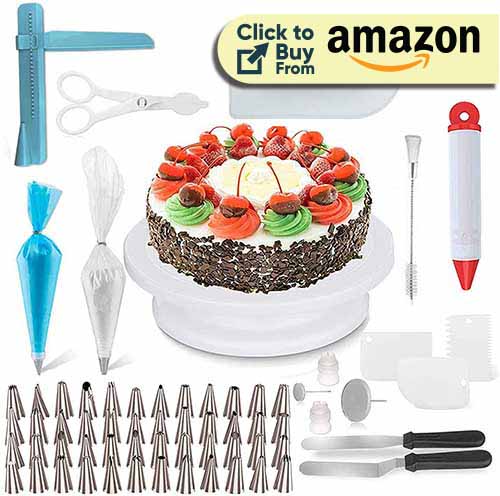 About this item:
Made of durable and sturdy material
Now, decorate your cake with a turntable effectively
Kit contains 164 pieces of cake decorating tools
Moreover, each tool of this kit is heatproof, durable, rust-resistant and sturdy
5. Airbrush Cake Decorating Kit
Now decorate your home-baked cakes professionally with an airbrushed cake decorating kit. It is a unique as well as a smart baking tool of the cake gifts collection.
Surely, it will add a new stylish look to your baking utensils. With the help of this airbrush kit, you can decorate cakes, pastries, cupcakes, fondants and much more.
It works smartly as it has 3-speed compressor settings to control its speed. Moreover, this kit includes a flow control airbrush and 8 accurate colours.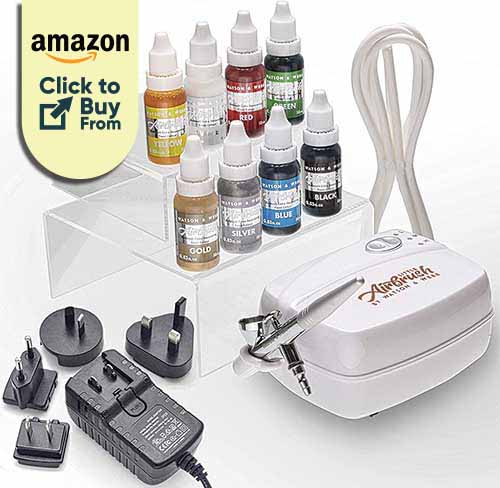 Features of this item:
The airbrush cake decorating kit is easy to assemble
An ideal cake gift for beginners
In addition, it features durability and scratch-resistance
Easy to clean
6. Adjustable Cake Holder
An adjustable cake holder is a wonderful item of the cake gifts collection. Its adjustable lid ensures to cover even the tall cakes.
In addition, this cake holder is deep enough to hold a variety of cakes and keep them fresh also. No doubt, it could be a perfect cake gift for enthusiast cake makers. Add a unique and unusual style to your kitchen utensils with an adjustable cake holder.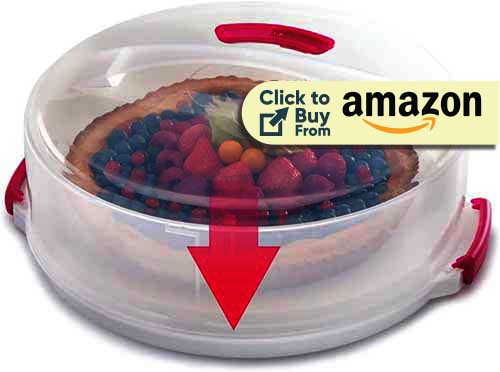 About this item:
An adjustable cake holder made of plastic
Available in white and pink colour combination
Its size is 36 x 36 x 22cm
This cake holder features firstly, a large convenient holder with two side clips
Secondly, its lock feature keeps your cakes airtight
Easy to clean
Moreover, it is a sturdy and durable cake holder
7. High and Low Cake Decorating Stand
Now, the decoration of a whole delicious cake is no more challenging with this great high and low decorating stand. With the help of this wonderful turntable, you can decorate your cake easily.
Moreover, this sturdy and long-lasting cake stand is perfect for the decoration of tall cakes. You can adjust it at two different heights to decorate your cake conveniently.
You may also Like: Top 10 Afternoon Tea Sets with Cake Stands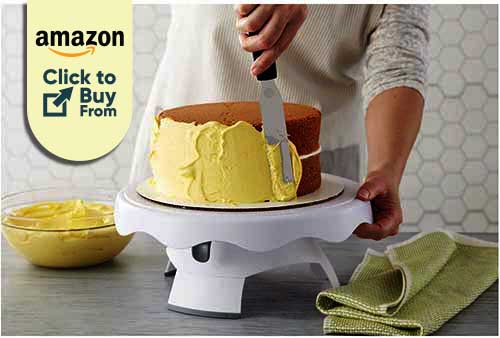 Features of this item:
Available in white colour
A sturdy and durable cake stand made of plastic
Its size is 32cm x 32cm x9cm
Moreover, it facilitates the decoration of a cake because of its 2 adjustable heights
In addition, this stand features a non-slip base with securely lock legs
Overall, this stand is a great product of cake gifts package
8. 3D Icing Pens for Writing
– Now, the personalization of your delicious cakes got easier and quite simple with a set of 18 icing tubes. Moreover, you can also use these pens for writing, drawing pictures, and simple borders to your cakes, cookies, cupcakes and much more.
Available in 9 bold colours (2 tubes of each colour), perfect for decorating your delicious and tasty bakes. In addition, it is a perfect cake gift for beginner cake makers.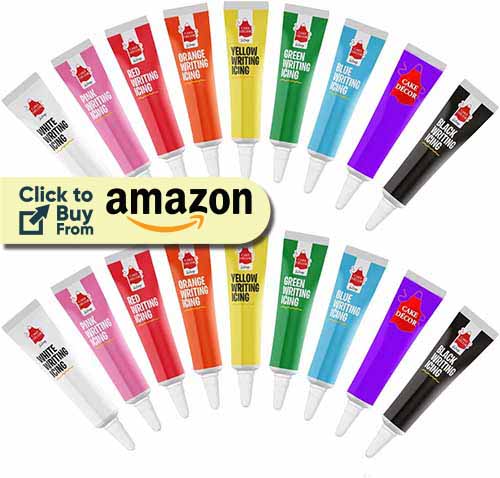 About this item:
Set of 18 icing tubes with tasty and multi-colour flavours
All the icing tubes are made of natural ingredients
No artificial colours and flavours are used in these icing tubes
Additionally, it is easy to use
All the icing packs are ready to use and have perfect sized nozzles
9. Cake Decorating Pen
Cake decorating pen is a great and wonderful cake present for the bakers. This smart decorating pen is specially designed for beginners to make their creations wonderful.
In addition, it comes with 7 pieces of nozzles to decorate your cake differently. These nozzle tips have different shapes like closed star, round, plain, open star, petal, leaf, and French. Thus, one can easily decorate a cake with a professional finish.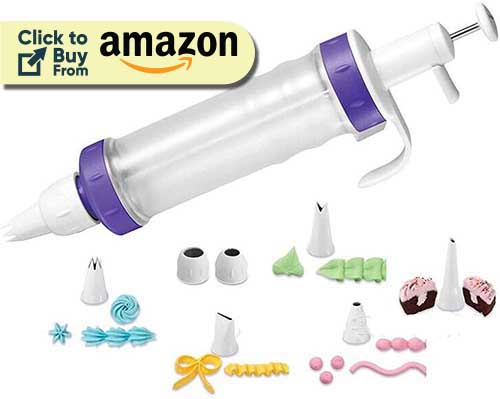 Features of this item:
A sturdy and thick cake decorating pen
In addition to this pen, 7 nozzles of different styles are also included in this cake decorating kit
Now, decoration of cakes, cupcakes, or desserts become easier with our decorator pen
Easy to use and clean
10. Wedding Cake Knife and Server Set
The set of knife and cake server is a perfect cake gift for wedding parties, birthday parties, Christmas, mother's day, or any other social event. Not only designed for the cutting of cakes but also dreadful for the slicing of other baked goods like pizza, pies, bread, cupcake and many more.
Beautifully designed with carved patterns, so this set will surely add elegance to your cake presentation. No doubt, it is a unique and wonderful cake gift for cake makers of all levels.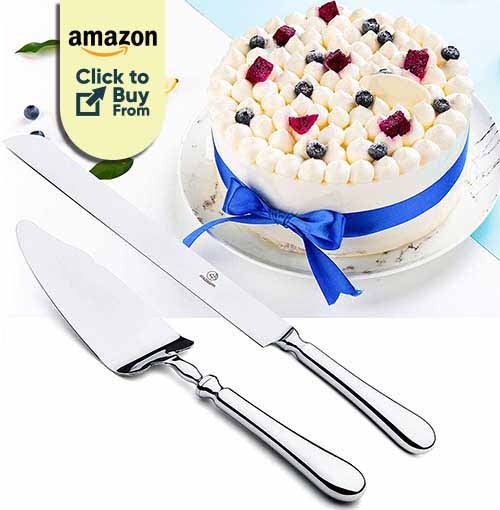 Short-description of this item:
A complete wedding set of knife and cake server
Also, great for daily use in a kitchen
Designed beautifully with carved patterns
In addition, this set is made of stainless steel
Easy to use and clean
11. Tasty-Fill Heart Cake Tin Set
A heart-fill cake tin set is a product of cake gifts range and also a great cake gift for bakers. Now, upgrade your baking expertise with this tasty-fill heart cake tin.
Try something different than usual and create delicious and presentable cakes for your loved ones. In addition, a booklet of delicious and satisfying recipes is also included.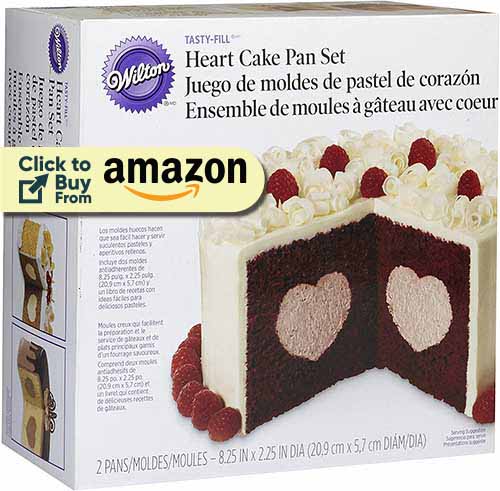 About this item:
Tasty heart-fill cake tin set is made of high-quality carbon steel
The tin set features a non-stick inside coating for easy and quick release
Easy to use and clean
Sturdy and thick tin set
Also, a recipe booklet is included with 2 2-piece heart-fill cake tin set
12. Gravity Cakes!: Create 45 Amazing Cakes
* Now, create something special and unusual with the ultimate step-by-step guide of this recipe book. Certainly, gravity cakes are the dream creations for beginners. But, here we solve this problem and offers you a descriptive as well as a creative recipe book.
But, what makes this recipe book extraordinary and special? Because of its detailed description and pictures, it guides the cake makers effectively. And, perfect extra-special cake gift for cake makers.
You may also Like: Baking Gifts for Experienced Bakers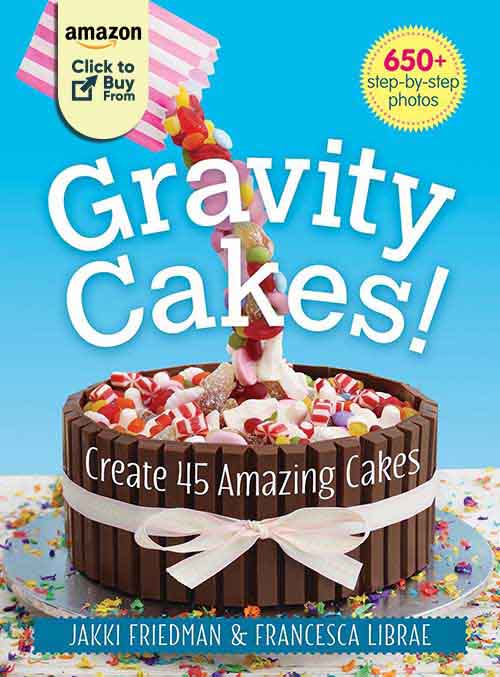 Features of this item:
A step-by-step guide with pictures to make gravity cakes easily
Published in the English language
Moreover, this recipe book features more than enough creative ideas for the making of gravity cakes
Now, create a delicious gravity cake for special events with ease
13. Cupcake Carrier with Handle
Carry and store your deliciously baked cupcakes with style in cupcake carrier. Also, an ideal carrier for large cakes. The cupcake carrier features sturdy handles for comfortable hand grip.
It bestows you with the confidence to carry 36 cupcakes at a time. Moreover, it transports your delicious creations safely. And, it keeps your cupcakes fresh and safe for a longer time.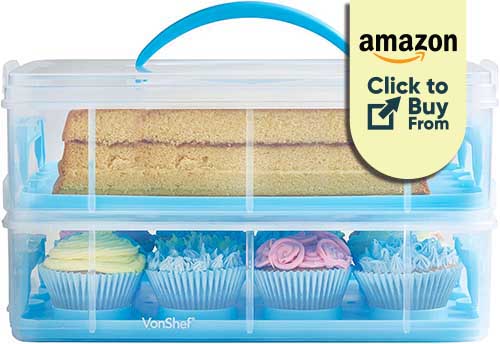 About this item:
A fantastic cupcake carrier made of plastic
Size: 27cm(L), 36cm(D), and 26cm (H)
Firstly, it is a lightweight and strong cupcake carrier
Secondly, it features the removable trays and handles
Also, it has locking clips among tiers to maintain freshness
Stackable 3 tier plastic cake carrier
14. Polka Dot cake tins
Add some style to your baking equipment with a set of 3 round cake tins. So, store your rest of baked masterpieces in these deep cake tins. All of the three cake tins are beautifully designed with floral patterns and polka dots.
Extra-deep than standard cake tins and keep your baked items fresh too. Furthermore, the stylish and bold colours of polka dots and floral design on a cream background will surely add a new look to your kitchen.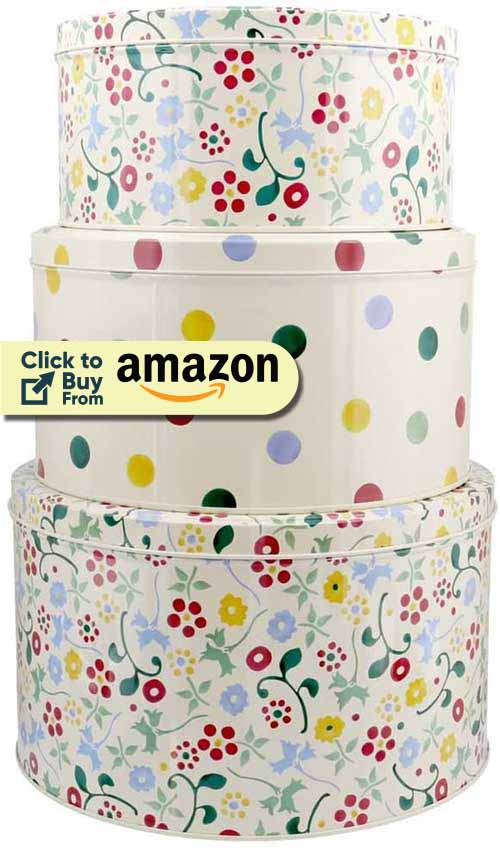 Features of this item:
A set of polka dot cake tins made of metal
The size of a large tin is 25cm x 15cm
The size of medium tin is 22 x 12cm
And the size of small tin is20cm x 9cm
No doubt, it is a perfect cake gift for any cake maker
15. Flower Fondant Cake Decorating Kit
A flower fondant cake decorating kit is a perfect and thoughtful gift for cake decorators. Now, give a professional look to your baked masterpieces with a cake decorating kit.
The cake kit includes a rolling pin, cake smoother, starflower cutters, and everything you required to create a masterpiece. Moreover, all these tools are available in different sizes and shapes.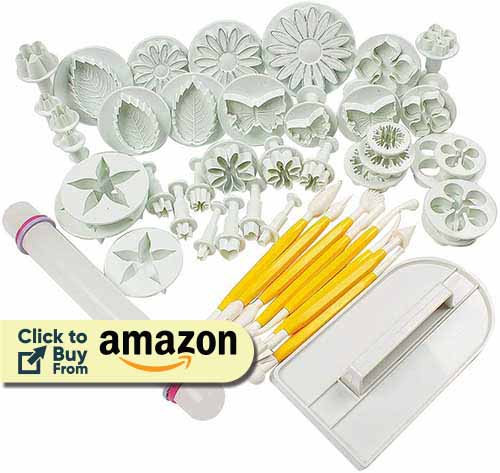 About this item:
All the decorating tools of this kit are made of durable plastic
This cake decorating cake kit consists of 46 pieces
Easy to use and clean
Perfect decorating tools for fondant cakes, sugar crafts, and desserts
Besides this, it is a unique cake present for cake decorators
16. Ultimate Cake Decorating Tools Set
A cake decorating tool set containing 263 multi-coloured pieces is a thoughtful cake gift for enthusiast bakers of all skill levels. Moreover, this tool set features a storage box to keep all these decorating tools safe.
The cake decorating tool set consists of a cake roller, brushes, spatulas, decorating tips and nozzles, and a lot of different flower impressions.
You may also Like: Mary Berry Kitchen Favourites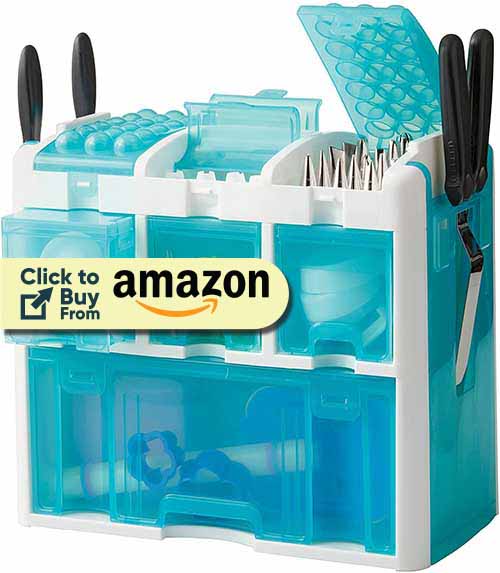 Short-description of this item:
All the multi-colour decorating tools and storage box is made of plastic
This featured cake decorating tool set is perfect for beginners as well as professionals
Now, decorate a Christmas or birthday cake in your home kitchen with this ultimate cake decorating tools set
Easy to use and clean
Moreover, all the decorating tools are sturdy and durable
So, upgrade your baking expertise to the next level with a themed collection of cake decorating gifts. All these decorating tools are perfect to decorate your cakes for Christmas, birthday party, mother's day, or any other social event.
And, these cake decorating items could be a great and stylish present for your cake maker loved ones. Before placing an order, one must take a look on the customer reviews section at the amazon site for more details. And, HAPPY SHOPPING!!