Sugar snap peas or snap peas are edible-pod peas belonging to the legume family. Snap peas are actually hybrid of two regular pea cultivars, shelling pea and snow pea. Nowadays, they are grown and consumed massively all over the world. Usually, they are served after steaming, roasting, and stir-frying. But the question is can you eat sugar snap peas raw?
What do they taste like when consumed uncooked? Or, which one is the best way of eating snap peas? And can you store them for off-season or later use? You can find all the answers to the above questions in this informative piece of guide. So, take a deep dive to explore the real facts.
Can You Eat Sugar Snap Peas Raw?
Yes, you can eat sugar snap peas raw, although they have become beloved snacks for many people.
Many people also prefer to eat fresh and raw peas because they are nutritious and deliciously juicy.
Eating raw peas doesn't pose any serious health risk. So, they are safe to consume fresh and uncooked.
Interestingly, the whole snap pea plant is edible when young. You can add their leaves in salads and savory wraps. However, older plants get hard and flavorless stems and thick leaves, so avoid them.
The crunchy pods of snap peas are also edible and are mild sweet to taste. However, don't eat too much pea pods at a time as they can cause stomach distress.
Prepping snap peas isn't a challenging task. You can eat them as is if they are fresh and young. But you must have to discard the tender or thick stems before chopping pea pods.
What Does Raw Sugar Snap Peas Taste Like?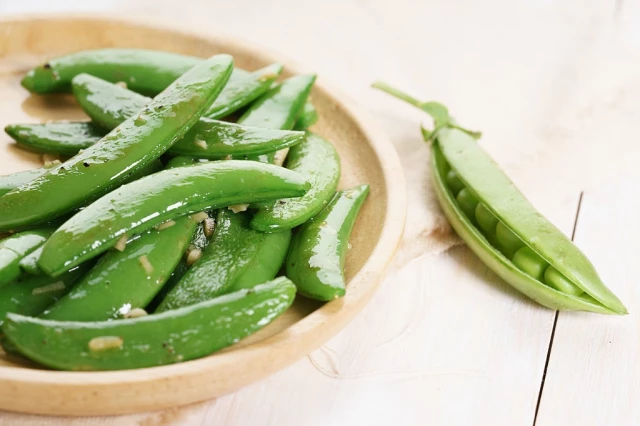 Sugar snap peas are mildly sweet, crunchy, and juicy when consumed raw. Their pods also have a pea-like and mild sweet taste, so you can enjoy them as they are.
You can enjoy them as is and also incorporate them in a salads. It's up to you whether you add them as is or after chopping along with pea pods.
Besides this, one can also eat raw sugar snap peas with dips and some other savory relishes. This way, you can make your regular routine food crunchy, delicious, and nutritious as well.
However, snap peas tend to become sweeter and softer when cooked and sautéed. Roasted and stir-fried snap peas can be served as a side dish with other central savory treats.
So, enjoy this versatile veggie in your own way.
Best Ways Of Eating Sugar Snap Peas
Besides enjoying raw sugar snap peas, one can also prepare them in various other ways. For example, they go great when roasted, steamed, and sautéed.
In addition, they also pair up best in stews, casseroles, soups, and savory meat dishes. However, some people prefer to eat blanched or simmered snap peas offering fantastic taste and texture.
Here, we'll cover some delicious ways of cooking sugar snap peas that you can try according to your recipe preference.
Roasting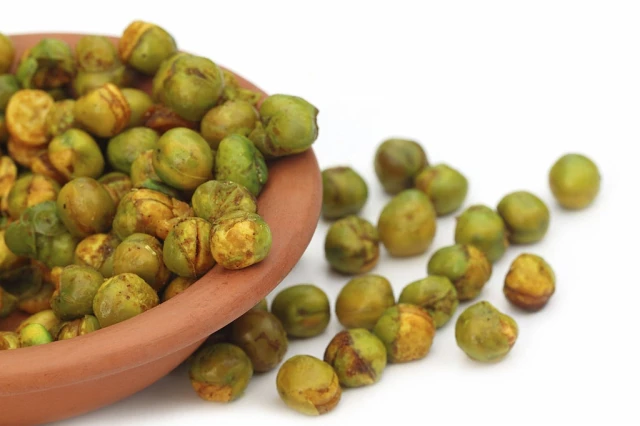 It is probably a fantastic way of preparing snap peas. Roasting makes them deliciously sweet and flavorful.
Choose baby or young pods for roasting as they are more flavorful and softer. First of all, pat the pea pods dry after proper washing.
Toss some olive oil, spices, and salt to taste. After that, shift them to the baking tray and then to the oven.
They will be ready to eat within 10 minutes. Serve them as a healthy snack or a delicious appetizer.
Steaming
You can get tasty and yummy peas within minutes by steaming. For steaming, prepare sugar snap peas. Here, you can also chop them along with pods.
After that, steam them for 4 to 5 minutes and drain. Next, add some herbs such as parsley, mint, or cilantro. Spice them according to your taste.
The adding feature of steamed snap peas is that you can also toss them in savory wraps and sandwiches, and they go incredible this way.
Sautéing
For sauteing, you can either choose pea beans or pea pods. So, prepare them in your own way. After that, add some olive oil to the skillet and toss fresh sugar snap peas.
Stir them for a minute and add spices or herbs. Cook them until they get their dark greenish color with a soft texture.
After sauteing, garnish them and serve them hot.
In addition to these methods, you can also try grilling and simmering to get a more palatable and satisfying meal.
Are Raw Sugar Snap Peas Bad For You?
Raw sugar snap peas are quite nutritious and healthy to eat. In normal conditions, they didn't pose any health disorder even when consumed uncooked and raw.
However, too much consumption can cause stomach or intestine distress. As you know already, snap peas are rich in fibers, so their excessive use makes them hard to digest.
Therefore, people with sensitive health conditions have reported unusual stomach pain, bloating, and diarrhea. Sometimes, people may suffer irritable bowel syndrome after eating uncooked snap peas.
Therefore, limit your raw consumption and go for roasted, sautéed, and steamed peas to avoid such serious health issues.
Can You Freeze Sugar Snap Peas?
When it comes to freezing, you have a couple of options out there. You can freeze sugar snap peas raw or after blanching.
Both these ways of freezing are effective and make the peas last longer, so it's up to your preferences which method appeals to you the most.
Here, we'll discuss both methods step by step.
First of all, wash and clean the pea pods properly. After that, pat them dry to get rid of excessive moisture. Remove the thick stems or terminal strips of the pods.
Slice the pods in halves and put them in freezer-safe bags. Remove extra air and seal them. Finally, label them and put them in the freezer, and that's it.
Secondly, you can also freeze them after blanching. This way, peas pods remain fresh and usable for a long time as compared to the former method.
After washing and cleaning pods, boil them for 1 to 2 minutes. Next, drain them and transfer them to the bowl of cold water.
Spread the single layer of pea pods in freezer bags or air-tight containers and put them in the freezer.
This way, you can freeze pea pods for 8 to 10 months.
Read Also: Can vegans eat eggs from their own chickens?
Quick Wrap Up
You can eat sugar snap peas raw to enjoy the natural freshness, sweetness, and crispness of this versatile veggie. When uncooked, snap peas have a crispy sweet taste. While on cooking, they tend to become more on the sweet side with a soft texture.
Although too much consumption of raw pods can cause stomach upset, but normally they do not pose any health disorder.
However, it's totally up to you whether you want to enjoy raw peas in salads and alone as a snack or cooked as roasted, sautéed, and steamed.