Yellow squash or summer squash is a member of the Cucurbitaceae family and thus closely related to cucumber and cantaloupe. Usually, there are two kinds of squash, winter squash, and summer squash. Since winter squash is edible only when fully cooked, so you may think can you eat yellow squash raw?
Being more versatile and delicious, it goes best in a number of food dishes, casseroles, and even pickles. Besides this, yellow squash is also widely incorporated in a variety of side dishes as well as savory stews and soups.
But can you eat it raw? Or what does it taste like when consumed raw? And how yellow squash is different from winter squash? Know all about these facts and much more here. So, let's dive in deep.
Can You Eat Yellow Squash Raw?
Yes definitely, you can eat. In contrast to winter squash, summer squash is deliciously edible, either raw or cooked. In addition, for many varieties of summer squash, the whole fruit is edible such as its seeds, its flesh, and skin.
Besides its edible flesh, its seeds and outer skin or pith are also soft, thus really go well in salads and pickles as raw.
Additionally, yellow squash is quite common in plant-based cuisines and casseroles, thus goes amazingly delicious and satisfying for vegetarian guys.
By the way, you can also enjoy the best part of yellow squash by cooking it in a proper way. For instance, you can roast, grill, or bake the summer squash to get a palatable meal either as a side dish or a main course.
But summer squash is more susceptible to spoilage than winter squash, so you must have to consume it or store it in the refrigerator for later use.
What Does Raw Yellow Squash Taste Like?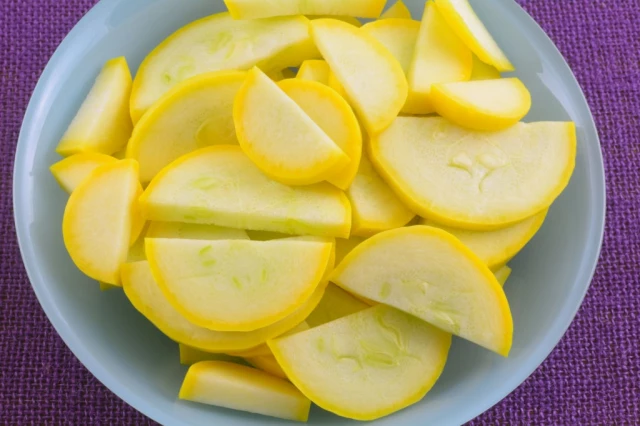 Yellow squash is a summer treat having a mild taste with slight notes of veggie sweetness. However, when consumed raw, its buttery flavor seems like a mixture of nuts and black pepper. On cooking, its buttery flavor becomes more robust and prominent.
Yellow squash comes in two main varieties, one is crookneck, and the other one is straightneck. The former one has a typical veggie sweetness with slight nutty hints. And the later variety has a mild flavor with a slight buttery taste.
Additionally, the tiny seeds of summer squash are also edible and flavorful. Squash seeds are buttery to taste and full of nutrients. If seems mild, you can notch higher their flavor by either salting, roasting, or spicing.
Since yellow squash has smooth and thin skin, so there's no need to peel off squash until it feels too thick or flavorless.
Best Ways Of Eating Yellow Squash
Besides eating raw, you can also eat yellow squash in a number of different ways. Raw summer squash goes great in vegetable salads and pickles. However, one can also cook it to get the best flavor out of it.
Here we'll tell you all the best ways of eating yellow squash that you can follow and enjoy a new theme of flavors.
Salads: Incorporating squash into a veggie salad is a delicious way of consuming it raw and uncooked. Since its flavor notes mix well with other veggies, so it could be a star ingredient of a salad. Thus, give a gentle scrub to squash and cut it evenly into a bite-size pieces.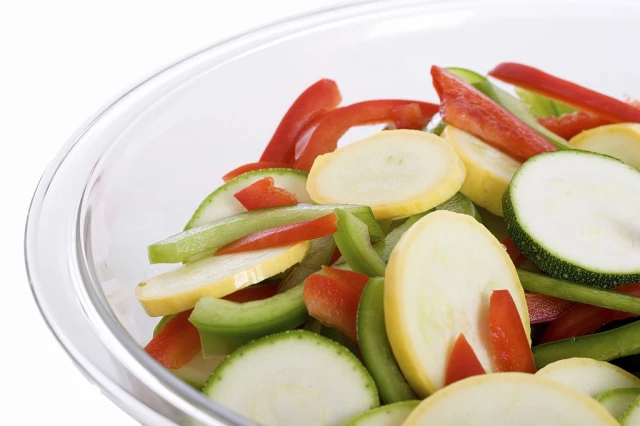 Pickling: It's another way of preserving the goodness of raw squash. Every tender yet spicy bite of squash enhances the overall flavor of savory meal. Squash condiments and relishes are the best flavor enhancers of any typical food.
Roasting: If you want to enjoy a more sweet and buttery flavor, you can go for roasting. Roasting makes squash extra delicious and savory. Firstly, cut yellow squash pieces of about 2 to 3 inches and place them in a baking tray. Next, sprinkle some olive oil and spices to your taste. After that, roast it until it gets brownish edges.
Grilling: Grilling is another tricky way of drawing goodness out of yellow squash. This way, you can season the veggie entirely and thus make it more flavorful and satisfying. Moreover, grilling makes squash tender and crispy with more robust flavor notes. So, it would be the best method of enjoying yellow squash rather than eating it raw.
How To Store Summer Squash?
As you see earlier, yellow squash is more susceptible to spoilage than winter squash. So, prep it or consume it at the moment you bring it home.
However, if you've got a good deal of summer squash on hand, you can store it properly for later use. Don't wash and cut the veggie before storing, as extra moisture will make squash a slimy mess.
So, seal this delicate vegetable in air-tight containers and place them in the refrigerator. This way, you can use it for the coming six days. However, you can also freeze yellow squash to make it last longer for months.
Read Also: Can You Eat Parsley Raw?
Final Words
You can eat yellow squash raw for its slight buttery flavor notes and mild sweetness. Summer squash or yellow squash is completely edible as compared to winter squash.
The whole veggie, such as skin, watery flesh, and even seeds, are entirely edible and rich in nutrients. So, you can consume them raw in salads and pickles.
Moreover, roasting, grilling, and braising are some other ways of enjoying cooked yellow squash.