Cherries are one of the exotic and fleshy summer fruits making our desserts delicious and eye-catching. The bright vivid color immediately pops into our minds whenever we think of cherries and make our mouth water. However, their sweet yet tart fleshy flavor and a stunning red color are hard to match. But ever you think why cherries are red?
Why is the red color of cherries different from other fruits? Are all cherries red in color? And what's about the bright red color of Maraschino? So, if you have such curiosities about cherries, cling to this informative article. Here, we will tell you all the amazing cherries facts and some ways to fake the color of cherries. So, move on.
Why Are Cherries Red?
Cherries are red because of natural flavonoids, also known as anthocyanins. These naturally occurring compounds responsible for different eye-popping colors of plants, fruits, and vegetables.
Anthocyanins impart a wide range of colors from red to blue, and it is red in cherries because of their higher acidity. It's a concentration of the pigment that matters, as its high concentration gives dark colors to cherries such as dark cherries.
However, the cherries with bright colors have a lighter concentration of anthocyanins. In typical cherries, its balanced proportion bestows fleshy red color to them.
In addition to giving bright vivid colors, flavonoids are also rich in healthy antioxidants. These oxidants are really effective against diseases, full of anti-inflammatory and anti-aging properties. So, the addition of cherries in your desserts is a delicious, bright, and healthy option.
Are All Cherries Red In Color?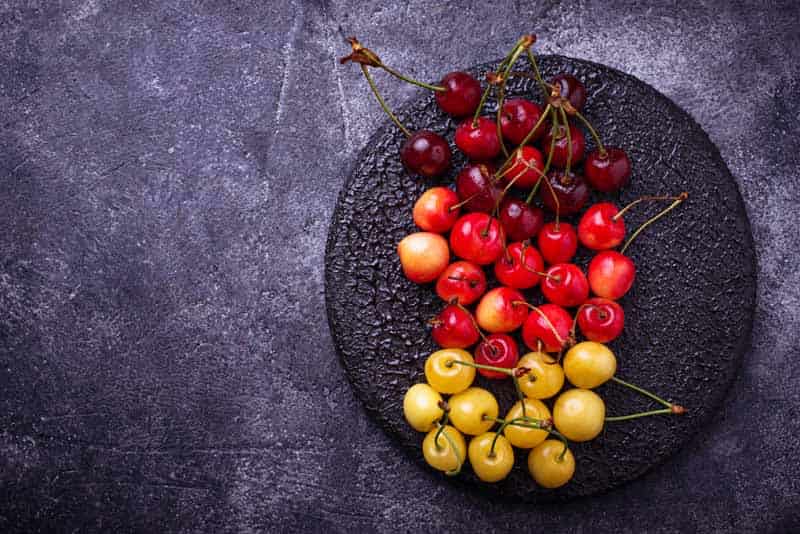 After knowing the answer to why are cherries red in color, it's quite obvious to think, are all cherries red? And the short, sweet answer is no. Not all the cherries have similar color profile but different ones.
As you see that it's the pigment concentration that matters a lot. When cherries develop and get mature, they start to accumulate pigments. And during summer, cherries ripe and turn dark.
There are various dark varieties of cherries developing high pigments when mature. For instance, Chelan, pearl, Benton, and burgundy are some dark cherry species.
And at the same time, there are also some other cherry varieties with too little pigments, and thus lighter in color for instance, rainier cherries, sweetheart cherries, and radiance pearl.
Besides these kinds, there are a lot more cherry cultivars having different colors with short red blush.
What's About The Bright Red Color Of Maraschino Cherries
Maraschino cherries are quite common in alcoholic and non-alcoholic beverages, cocktails, desserts, and other sweet creations. Their eye-popping bright red color and great flavor bestow a new life to food dishes.
But from where maraschino cherry gets its color? Well, it's not the natural or original color but an edible food dye.
To prepare maraschino cherries, usually lighter colored cherries, more often rainier or gold varieties are used. They are firstly preserved in a brine solution and then sweetened by soaking them to a sugary syrup containing edible food coloring.
Such bright colored cherries are best to garnish and decorate sweet treats such as pies, cheesecakes, smoothies, ice cream, and fruity cocktails.
Read Also: Fruits That Aren't Round
Cherries Go Best In Which Food Dishes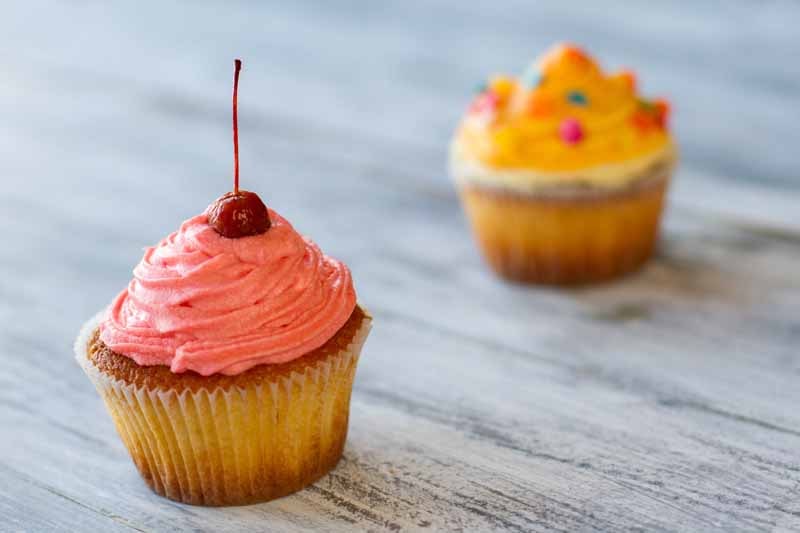 Being more versatile and a tastier fruit, cherry goes great in a wide range of sweet as well as savory food recipes. The natural red jewels are really stunning either fried, stir-fried, roasted, and baked.
Cherries are true gems of sweet treats as they give food dishes a nice color and flavor profile. And, it's time to discuss where you can use cherries.
Here's you have a couple of options that you can use both sweet and sour cherry varieties straight in your favorite recipe. Additionally, frozen, preserved, and even dried cherries change the overall texture and final look of the dish.
Cherry pies, cupcakes, cheesecakes, and tarts are common enough that everyone knows about. But that's not enough. You can prepare delicious cherry cobbler, waffle, parfait, and clafoutis.
In addition, sweet, sour, yet spicy cherry salsa, relishes, jams, sauces, and dips are also high in demand. All these royal condiments leave sweetish tart notes on your taste buds that are just too luscious and mouth-watering.
Cherry goes well in stews, dips, salads, and meat dishes in savory usage. However, cherry side dishes also pair up well with chicken and meaty recipes. So, don't restrict yourself to just only summer pies, cakes, and relishes, try new and twisted ideas to make yourself happy.
Can You Fake The Red Color Of A Cherry?
It's not much tricky to fake the color of cherries in desserts and other sweet baked creations. For instance, cranberries, raspberries, pomegranate, beetroot, and food coloring work well to impart a similar red color as cherries to recipes. But some of them can also give a subtle bland flavor that you can easily round off using sugar or other flavorings.
Keep always in mind that there are many shades of red color, but cherries have a distinct bright color. Because of the presence of anthocyanin, there's a slight blue tinge to cherries, and it doesn't exactly purple. So, be careful if you want to get a similar color as cherries in your dish.
Cranberries
Cranberries can easily fake the color of cherries but that of bright cherries, not the darkest ones. Their specific red shade is enough to make things more stunning and worth eating.
But cranberries can and will bring tart or astringent flavor to the final food. So, use cranberries instead of cherries where the tart cranberry flavor pairs well, such as relishes, sauces, fruit salads, and trifles.
Raspberries
Raspberries being deliciously sweet fruit with a little tinge of tartness, can help in place of cherries. Moreover, their nice vivid color is a good combo when it comes to smoothies, pies, cakes, and shakes. So, don't skip this option if you have a lot of raspberries on hand.
Pomegranate
Pomegranate is also a fruit having red-colored seeds that are very close to cherries, so drizzle pomegranate seeds to fruit juices, drinks, and salads to get a similar cherry red pop.
You can also go with pure pomegranate juice, but it isn't easy to get.
Beetroot
I know beetroot is dark red in color with a purplish tinge, but it can give a similar cherry color profile to a number of dishes. So, incorporate beetroot into sauces, brownies, bread loaves, and frostings.
If you're thinking of beetroot flavor, you are right. It gives a bland earthy flavor to recipes, but other flavorings and sugar will completely adjust, so don't worry.
Food Coloring
Food coloring will also be the best option if you don't have any red fruit on your hand. So, mix a small, very small amount of blue into red to get a similar cherry red color that looks more realistic and eye-catching.
So, Why Are Cherries Red?
Cherries are red because of natural pigments, flavonoids, or anthocyanin to be exact. Different concentration of these pigments imparts different colors to cherry varieties from red to blue. That's why there are a number of different cherry varieties with different colors, such as lighter cherries and darkest ones. So, next time remember that the bright colors of cherries are just because of colorful pigments.