No one can deny the importance of exchanging gifts, that this act makes our relationships more pleasant and strong. Make your relationships delightful and surprise your tea lover friends or family members with the stylish package of afternoon tea gifts.
There's nothing better than taking a cup of hot tea in afternoon with colleagues. Fortunately, if you are a tea lover, then I have something pleasant for you. Here's a collection of tea gifts that encloses afternoon tea set with cake stand and many more items.
Enjoy your tea time with the amazing gift collection that will definitely add new style to your tea table. Also modify your afternoon tea accessories with the fine batch of afternoon tea sets and cake stands.
Definitely, you will love these items as all these are just amazing and give a new attractive look to your tea table.
The stylish look of your tea table relaxes your mind a lot and excites your friends also.
Be unique by having this fantastic collection of tea gifts that is perfectly designed for you. In short, serving tea in afternoon tea set with cake stand is something special that you can do for your family friends.
Moreover, all these items are available at reasonable prices. Afternoon tea gifts have following items in the table of contents:
1. Afternoon Tea Stand
Afternoon tea stand is perfect to serve tea and allows you to display plates full of anything from homemade items or bakery products to fresh sandwiches and sweets. This modern tea stand is perfectly designed so that it could be useful to satisfy the most trend-conscious guest.
Furthermore, this wonderful tea stand becomes the epicenter of your tea table. Definitely, it will be an exciting experience for your guests. Because of its artful and impressive appearance this tea stand will surely meet the highest expectations of hospitality professionals.
Take your hospitality experience to another level by using the tea stand. It could be a great and delightful item for professional chefs to serve tea with cooked items. Just buy it and enjoy your tea time.
Features of this item:
The size of the tea stand is 26.5cm
Made of stainless steel
Available in round shape
Collection of Taylor and Brown
But remember, its size is small and you can serve tea to a single person at a time
2. Afternoon Party Tea Set
These pretty cups and saucers will definitely give an attractive look to your tea table. Serving a tea in party tea set is somewhat special and delights your guests.
Furthermore, the cute floral design is extended throughout and the exterior of cups and adds a botanical touch to your afternoon tea party.
You may also Like: Best Baking Gifts for Her
This collection of tea set is perfectly designed for usual family parties like birthday parties, engagement parties, and the afternoon tea with friends and festival celebrations.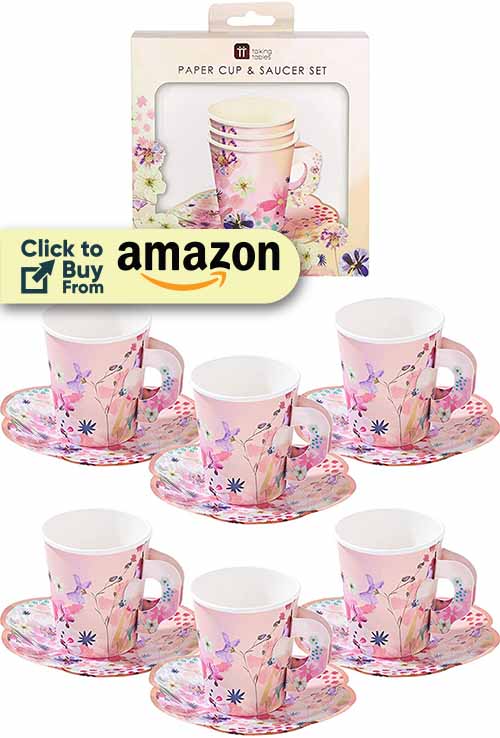 Pros and cons of this product:
Each pack contains 12 paper cups with handles and 12 saucers
Each cup can measure up to 8cm high
Scallop edging and rose gold trim
Having 170ml volume
Be careful because this tea set is not designed for too hot drinks.
3. Afternoon tea Cake Stands
The afternoon tea cake stands are beautiful table centerpiece for serving tea. Moreover, it can hold a variety of sweets like cakes, pastries, biscuits, and other delicious goodies.
It is really a pretty and sturdy cake stand and gives a unique look to the serving table. Just buy it and enjoy your tea time. Surely, it will delight you and your family friends. Its light-colored floral design is just amazing.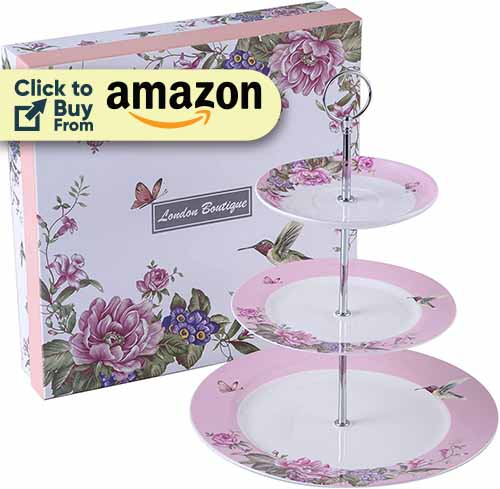 More about this item:
Made of high-quality porcelain china
Available in Blue, Beige, Pin, as well as in Turquoise colors
Its bottom plate is 26cm wide, the top plate is 19cm wide and the height of the cake stands is 22cm
2 years guarantee, attractive gift wrap, occasion and messages.
4. Royal Worcester Teapot
We all know that tea table is incomplete without a teapot. No one wants to make a compromise on the quality of teapot. If you are looking for teapot of best quality then you are at the right place.
I recommend you to buy this wonderful product and enjoy tea with your family. Additionally, it is designed by the artist Hannah Dale. Beautiful animal pictures are printed on it that enhance its beauty.
Moreover, the Royal Worcester range also includes several fine bone china mugs. Not only mugs but also have placemats, coasters, trays as well as other kitchen utensils.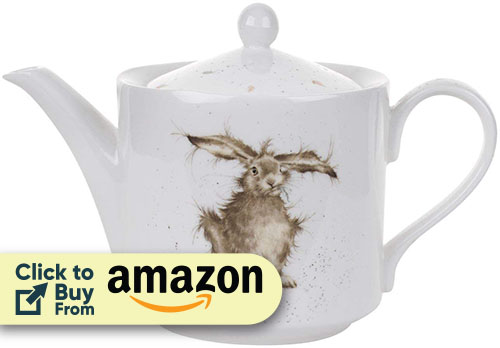 About this product:
Made of Fine Bone China
Also, dishwasher safe as well as microwave safe
Have adorable design
Heat resistant up to 200°C
Its capacity is 1.3 liter
5. Polka Dot Teapot
Teapots are available in different designs, but the Polka Dot Teapot is not only unique in its design but also has better quality. No doubt, it is a wonderful addition to your teapot collection.
It grabs the attention of your guests on the afternoon tea table and delights them. Everyone wants to have it on their tea table. Moreover, it is perfect to serve the tea to 5-6 family members. In short, it is fantastic and perfectly designed for you.
You may also Like: Best Kid's Baking Set for Gifts
Moreover, you can also gift it to your loved ones and relatives. In fact, Polka Dot Teapot adds grace to your tea table. Enjoy your afternoon tea with this wonderful teapot.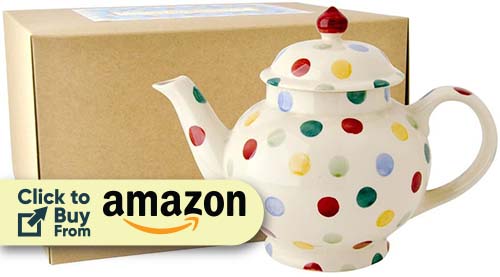 Qualities of this item:
Made from English earthenware in Stoke-on-Trent
Polka Dot Teapot with 4 mugs from Emma Bridgewater
Its height is 21cm including the lid, the diameter is 27cm handle to spout and its capacity is 1.2 liter
To maintain its appearance, it is recommended to wash it with liquid detergent
6. Tea & Biscuits Hamper Gift
As, all of us have a friend or a family member who is fond of eating sweets. If you also have a friend like this then you are at the right place. I have a great gift idea for you. Tea and biscuit hamper is a wonderful gift for your friend who loves sweets.
Or it is a perfect gift hamper for your relatives in the afternoon. Interestingly, it is consisting of tea, coffee, cakes, and a delicious array of traditional biscuits and chocolates. Moreover, all the products are carefully packed in an attractive reusable gift bag having sturdy handles as well.
You can not only use this hamper as a gift but can also serve your guests at afternoon tea table.
Description of products packed in hamper gift:
Butter shortbread, 200g
Vanilla Fudge, Deeping Fudge 80g
Biscotti Cantucci with Choc Chips, 125g
Ginger Biscuits 100g
Ceylon Tea, 20 teabags
Lemon Curd All Butter, Welsh Lady 311g
Features of this item:
All products are packed consciously
The quality of each product is maintained
Likewise, this gift hamper does not require refrigeration
International delivery is available for a surcharge
7. Book of Afternoon Tea
The Book of afternoon tea includes a collection of classic as well as traditional recipes. Therefore, if you are interested in cooking and fond of trying new and creative recipes then I can help you in this regard.
From cucumber sandwiches to fruit jams and baking cakes this comprehensive cookery book is full of delicious recipes for the afternoon tea. Amazingly, it consists of all those recipes you are looking for. Some recipes are classic while some have twist in them.
Gift this comprehensive tea book to your friends or relatives who love cooking. Learn unique, creative as well as delightful recipes from this book.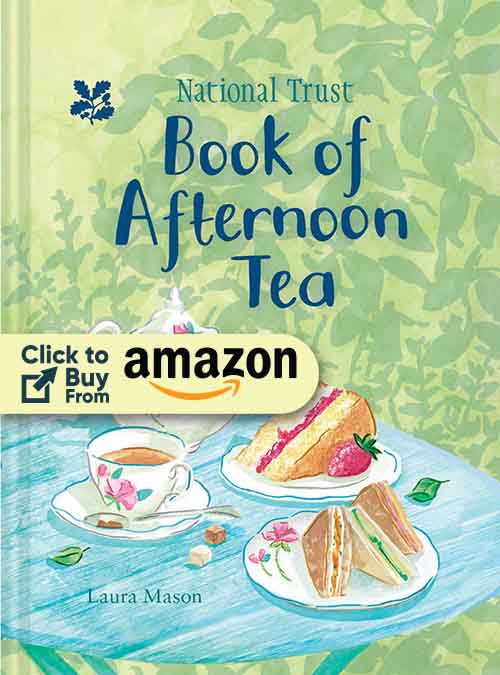 Specialties of this recipe book:
Consists of classic as well as creative delicious recipes
Surprisingly, it also includes the traditional recipes
All recipes are well distributed in the form of chapters
In short, it is a perfect recipe book for afternoon tea recipes
8. Afternoon Tea at Home Recipes
This book is full of afternoon tea recipes that you can try at home. Moreover, all recipes are easy to cook and are not time-consuming. It is consisting of all the extra special twists and techniques that will definitely take your cooking skills to another level.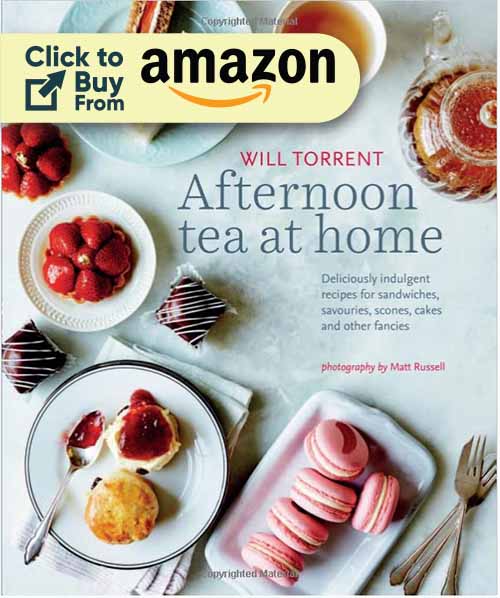 Specialties of this recipe book:
Recipes are arranged according to the seasons
Consisting of classic recipes of the afternoon tea
Additionally, recipes of top restaurants and hotels are also included in it
Not only this, but it also consists of recipes related to baking and chocolate work
In addition to all these, it also shares the unique and the delightful serving ideas with you
9. English Tea Shop Tin
Cheer up your family and friends with the English Tea Shop Tin. It is the finest collection of tantalizing Teas and Tisanes and comprises of 72 individually wrapped tea bags. It is a wonderful surprise for all those guys who want to enjoy pure and delicious afternoon tea.
You may also Like: Great British Bake off
Additionally, these tea plants are grown carefully under the natural ecosystem by farmers. Farmers don't use any kind of pesticides and artificial chemical sprays. It is 100 percent natural and pure because it is chemical-free. So, you can enjoy the natural taste of tea. It is perfectly designed for the holiday season.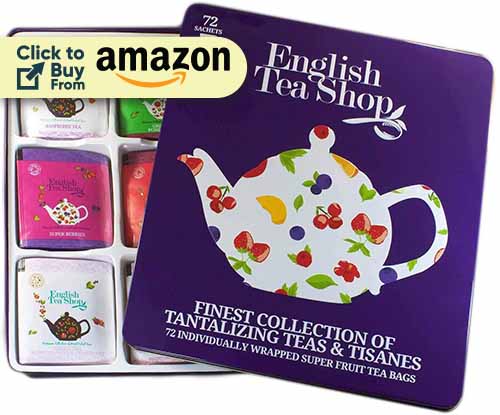 Features of this item:
All tea bags are consciously packed in colorful and luxurious gift tins
It contains 100 percent natural ingredients
Moreover, each tea bag has a perfect combination of natural fruit flavors
10. 12 Compartment Black Display Box
Delight your tea lover loved ones with this beautiful surprise. It is a tea compartment having 12 slots. Each slot is filled with 10 tea bags. However, it is very popular in hotels, restaurants, and guest houses.
The most amazing thing is that this compartment is beautifully designed with black color and keeps the tea fresh as well. Each teabag is comprised of mixed tea flavors that will definitely delights you. With different kinds of fruit flavors, you can give a new taste to your afternoon tea every day.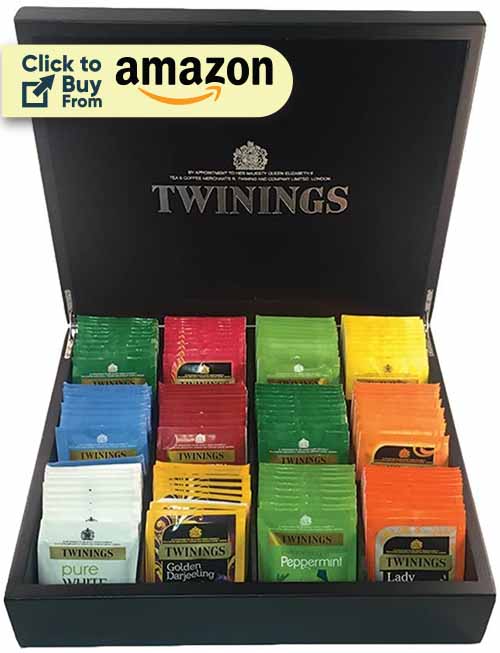 About this item:
Tea bags have Black Tea Flavors as well as Fruit and Herb Flavors.
Black Tea Flavors:
Assam
English Breakfast
Chai
Lady grey
Darjeeling
Redbush
Earl Grey
Fruit and herb flavors:
Pure Peppermint
Camomile
Mango and Strawberry
Lemon Green Tea
Jasmine Green Tea
Apple Crunch
This compartment includes a mixed selection of 120 Twinings Stringed and tagged tea envelopes.