Baking is both a science and an art. Bread is a product of baking a mixture of ingredients. No doubt, bread baking is an enthusiastic pursuit for bread lovers. Do you love bread baking?
It doesn't matter, whether you are just started the bread baking during the pandemic or you have been doing that for years, you may need appropriate and latest baking tools.
There is always something that we can use to improve our techniques and skills from time to time. So, get ready for impactful outcomes of bread making with the help of our wonderful collection of Bread Making Gifts consists of bread making equipment, kits and bakeware.
This collection of gifts also covers a range of popular bread baking recipe books. These recipe books are from experts including Paul Hollywood and James Morton.
Firstly, this brilliant package of Bread Making Gifts is an adorable addition to your kitchen or baking accessories. Secondly, if you are searching for an amazing gift collection for your bread maker loved one, then you can also exploit this collection as a beautiful present.
With that in mind, take a look at the stylish and exclusive range of Bread Making Gifts. Just pick the gift items for your beloved ones from the range of bread making items, I mentioned below.
1. Bread Making Board
The first bread making item of this collection is a Bread Making Board. No doubt, bread kneading is a critical part of making perfect bread. So, one needs to have an appropriate board for this purpose. Here is a bread-making board with a smooth surface perfect for kneading bread dough whether it's a pastry or a pie dough.
In addition, it is a multi-functional glass board and one can also use it as a serving board. Ideal for making homemade bread. Moreover, recipes of white bread, rye bread, and rustic bread are also printed on it and that is just amazing.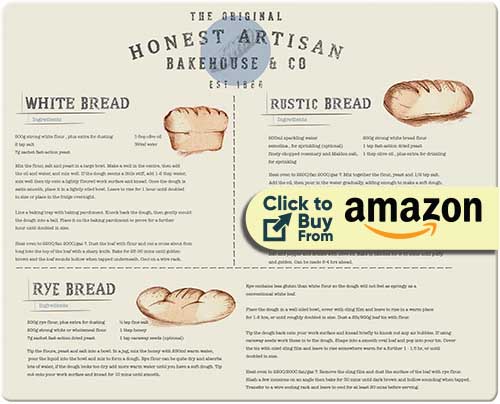 Features of this item:
Made of sturdy float glass
Just a perfect bread making board for preparing ingredients
Its size is 48 x 38 x8cm
Available in beautiful cream color
In addition, it has non-slip feet and easy to clean
Also, it is the perfect worktop surface protector
2. Reusable Bread Storage Bag for Freezer
Available in beautiful roll and plastic clip closure design, these reusable bread storage bags are perfect to store the bread and keep it fresh for a long time. Stop wasting, now save your extra baked bread with these bread storage bags. Replace your old classic plastic bags or bread bins with this reusable storage bag.
In addition, it is a set of 2 storage bags. Thus, store some of your loaves on the countertop and store some pieces of it in the freezer for later use. Surely, it will decrease the mess on your working table.
You may also Like: Personalised Baking Gifts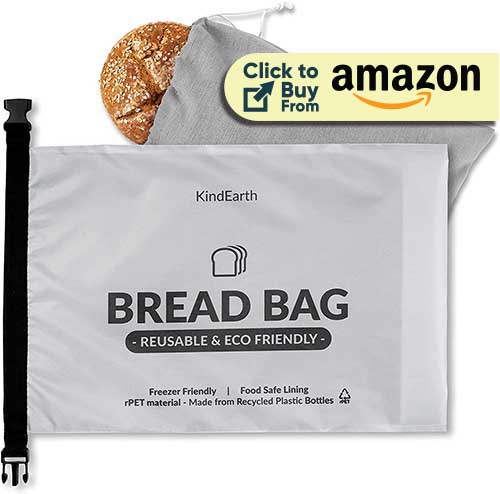 About this item:
It is an environment-friendly bag set made of BPA-free material
The width of each bag is 33cm, the length is 49cm, and the depth is 10cm
Hopefully, these can also store loaves of high top easily
Bags are not only environment friendly but also freezer friendly
Entirely made from plastic bottles with food-safe lining
3. Lekue Bread Sticks
The collection of Bread Making Gifts consists of a beautiful and stylish Lekue Sticks Pan. You can bake 30 delicious and crunchy dough sticks at a time. It not only makes your cooking easier but also enhances your baking expertise. No doubt, it is a clever smart tool that can be used for salty as well as for sweet recipes.
Are you a snack lover? And want to prepare snacks quickly at home? Then, this smart tool is for you. It takes just 5 minutes to bake the original appetizing snacks. Moreover, prepare delicious homemade snack sticks just like the restaurants and give surprise to your guests and children.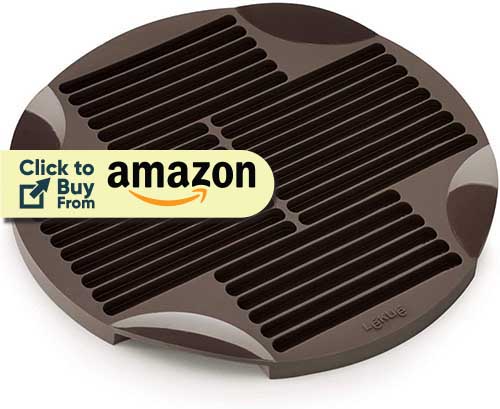 Qualities of this item:
Made of 100% Platinum Silicone
Easy to use and perfect for both salty and sweet recipes
And, made of BPA-free material
Also dishwasher, oven, and freezer friendly
The credit of its comfortable handling goes to the 4 incorporated handles
Its capacity is 240ml
Heat resistant up to 220°C
4. Wood Bread Cutter
Usually cutting your homemade bread creates a bread crumb mess on your working table. Avoid this mess, and use Wood Bread Cutter which is perfectly designed with a crumb catcher in its bottom. In this way, you can also collect enough bread crumbs for your next meal.
While cutting, it holds the bread loaf so you can cut it through easily. Every time it provides you with slices of equal size. It is a perfect trendy tool that you can use whether you are cutting homemade loaves, French bread, and pound cakes.
About this item:
Made of bamboo wood
It is a foldable bread slicer that is sturdy and durable as well
You can also adjust the thickness of each slice according to your own choice
Made of BPA-free material
Moreover, it is eco-friendly as it is free from harmful chemicals
5. Non-Stick Bakeware Loaf Tin
If you are doing baking or have the experience to bake homemade bread, then you will definitely know about the importance of a good-quality loaf tin. Because you have to set your dough in a loaf tin for the microwave so select a perfect loaf tin that suits your baking expertise.
You may also Like: Best Baking Personalised Cake Tin
Here, the range of Bread Making Gifts offers you a versatile non-stick loaf tin that ensures an easy release of your bread. Food is flawlessly released with little or no added grease. It is an ideal loaf tin and no doubt it is a graceful addition to your bread making equipment.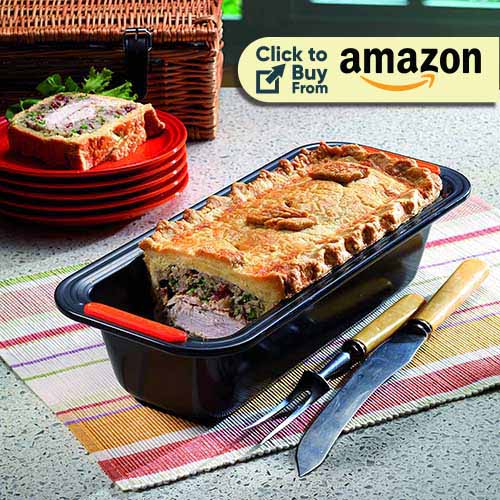 Features of this item:
Made of PFO-free material
Coated with non-stick carbon steel
Easy to use and clean
Also, heat resistant up to 240°C
And dishwasher safe
6. Round Bread Proving Banneton Basket
Give your homemade bread a stylish touch just like the loaves of a local bakery with our Bread Proving Banneton Basket. Perfectly designed for baking homemade loaves and fermentation of the dough. This round basket not only helps your bread to maintain its structure but also gives support to the dough during the final prove.
It also imparts an attractive spiral print design to the loaves which looks beautiful. These Banneton Baskets come in a variety of sizes, shapes, and patterns to fulfil your requirements exactly. This package of basket consists of a plastic dough scraper, measuring spoons, linen liner, and silicon brush. Upgrade your baking expertise with Banneton Basket.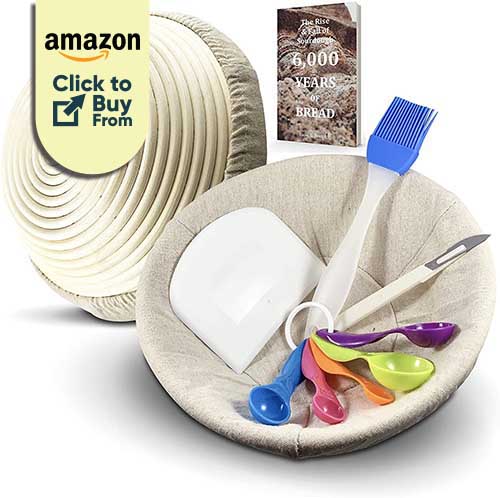 About this item:
Made of wood pulp bannetons which are chemical-free as well
Large baskets are suitable for making 1kg homemade bread while the small baskets are perfect for making 500g loaves
3 year Lakeland guarantee is included
Moreover, spoons give you an accurate measurement of ingredients
Do not use soap to clean it. Just use a brush for cleaning purposes
7. Kitchen Craft Bagel Slicer
Kitchen Craft Bagel Slicer with its sharp blade, slice your bagels safely and effectively. It is designed in such a way that it provides you with smooth halves of fresh bagels every time. Its cradle is for holding your bagel steady and its stainless steel blade is for slicing bagels in a single stroke without crushing soft dough.
With its non-slip base and comfortable grip, it ensures the slicing of any size bagel. In addition, to protect your fingers from being cut, its blade is shielded with acrylic plastic. Thus it is the best handy tool to slice your fresh and soft bagel conveniently.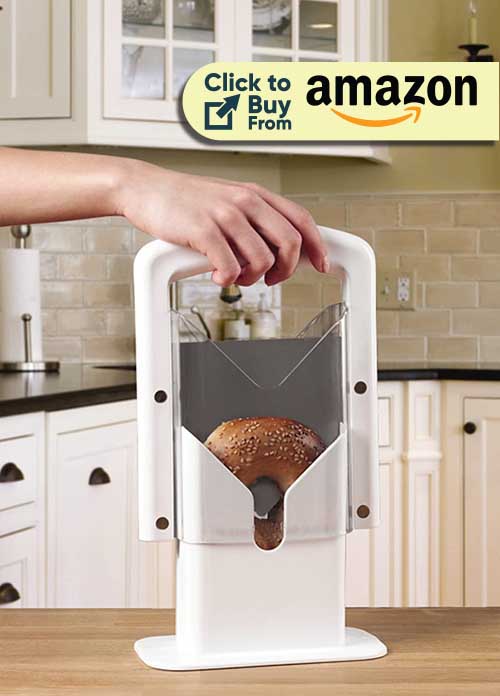 About this item:
The sharp blade Is covered with acrylic covers to protect your fingers from being injured
And, its non-slip bottom provides a strong grip during slicing
Also dishwasher safe
Easy to use and clean with 12- month guarantee
8. ORIENT 9″ Bread Knife
Orient 9 Bread Knife is a fantastic sharp knife to cut your homemade baked goods like rolls, loaves, cakes, and many more. But what are the features that make orient knife unique from the other competitors? One of its best features is its ergonomics, which means that it has an Ergo Grip POM handle that provides a sure and comfortable grip.
The best choice of professionals as well as baking experts because it provides expert handling during slicing of bread. It is a multi-purpose bread knife and will definitely give precise outcomes every time.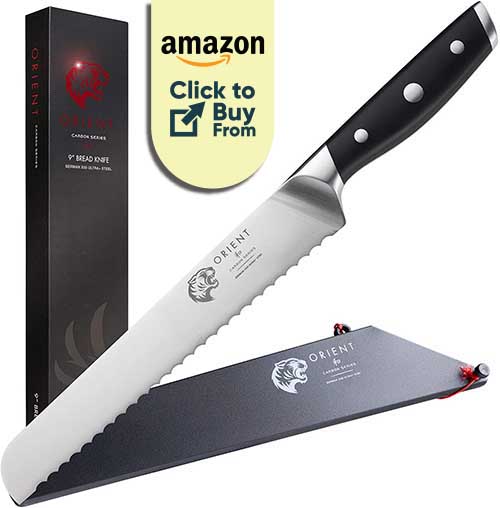 Features of this item:
Ultra-durable and multi-purpose bread knife
Having Ergo Grip POM handle to provide precise cutting results
Made of stainless steel with a lifetime warranty
9. 100 Great Breads: The Original Bestseller
Want to bake the bread with a slight difference in taste every time? Then, follow the recipe book from Paul Hollywood that makes your baking so simple and enjoyable. Paul Hollywood presents all the simple and delicious bread-making recipes in this book that will surely take your baking experience to a new level.
You may also Like: Mary Berry Kitchen Favourites
Bake delicious and unusual bread at home just by following the simple techniques mentioned in this book. From traditional and classic bread baking recipes to savoury and sweet bread recipes, this recipe book covers the 100 outstanding bread making recipes.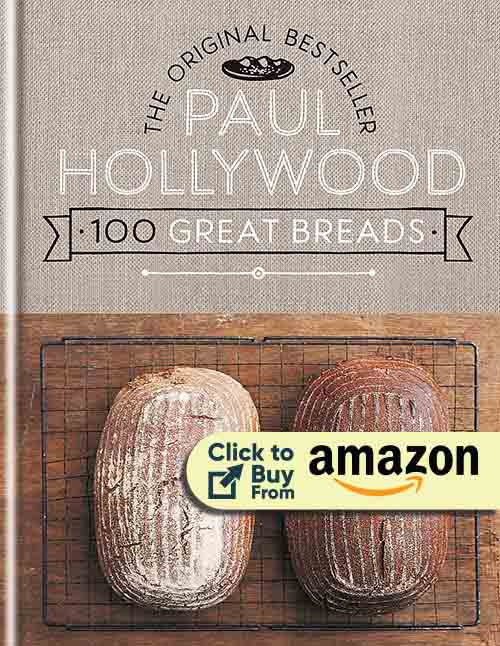 About this item:
Consists of classic as well as latest delicious bread baking recipes
surprisingly, it also includes the traditional recipes
All the recipes are well distributed in the form of chapters
Additionally, the recipes of top restaurants and hotels are also included in it
In addition to all these, it also shares the unique and very delightful serving ideas with you
10. Ceramic Mold Bread
If you are looking for a bread mold that suits your baking ability, then select this ceramic mold bread. It is just a fantastic tool to bake your bread as soft as you want. It facilitates you to bake even larger mold bread than normal size.
You have to just place your dough in the mold, cover it with a lid and microwave it for a certain time. And, it will provide you with a soft and so yummy mold bread with perfect crunchy rise.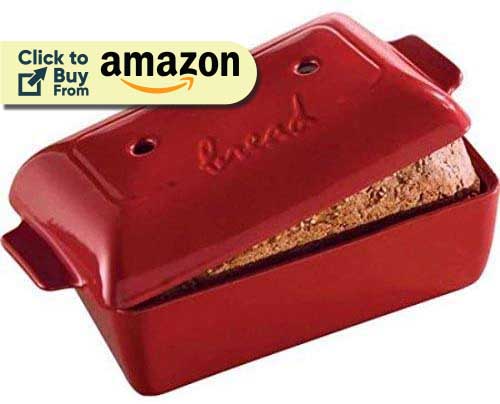 About this item:
This ceramic mold has a bottom and a lid with holes
Handles of the lid make it easy to use
Heat is distributed evenly
The base of mold is enameled with streaks that ensures the flawless release of the bread
also dishwasher safe with 10 years of warranty
11. National Trust Book of Bread
Learn the basics of bread baking with a series of delicious recipes. Whether you want to bake a simple loaf or a piece of cake, this National Trust Book not disappoints you. All recipes are explained with detail techniques and a proper measuring guide of ingredients.
With the help of these simple and quick recipes, you can prepare a perfect loaf for your breakfast in just a few minutes. This book covers a range of recipes from simple rye, corn, and sourdough bread to fluffy hot-cross buns and mouth-watering rolls and loaves.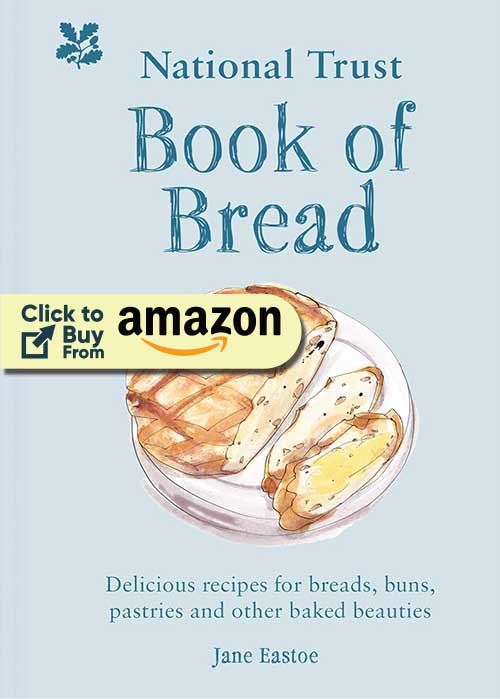 Features of this item:
Perfect recipe book for the bakers of all levels
Includes all the latest and delicious recipes that will really suit your taste
Moreover, it provides complete guidance about the measurement of ingredients
Just follow the simple steps mentioned in this book and improve your baking skills a lot
Also, it includes traditional recipes with a slight delicious twist
12. Pastry Cutter & Dough Mixer
The perfect Pastry Cutter and Dough Mixer provide you with better results than any other handy gadget. Blend your baking ingredients and dough with this amazing mixer.
It helps you to create more smooth pastry dough as it mixes all the ingredients very well. In addition, its handle is specially designed for your natural hand grip so you can blend the ingredients comfortably.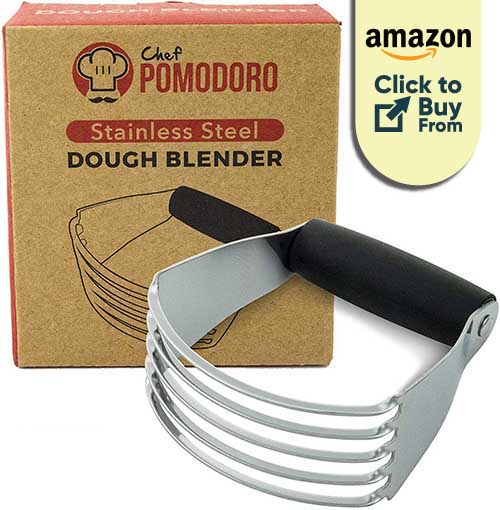 About this item:
Made of 5 stainless steel blades to provide you with smooth blending and mixing
Made of a non-slip handle to provide you with a balanced hand grip
Professionals choice
Also, dishwasher safe
Easy to use and clean
13. Richards Fastbake Bread maker
Give a new stylish to your kitchen baking accessories with this beautiful bread maker. Make your bread baking as fastest as possible. Just you have to place the bread dough in the bread maker and select pre-set programmer and then simply press the start button.
You may also Like: Top 10 Afternoon Tea Sets
And, your appetizing bread loaf is ready in a few minutes. Enjoy your breakfast with a fresh and soft piece of bread. With all these features, this bread maker is a brilliant and smart gadget in the collection of Bread Making Gifts.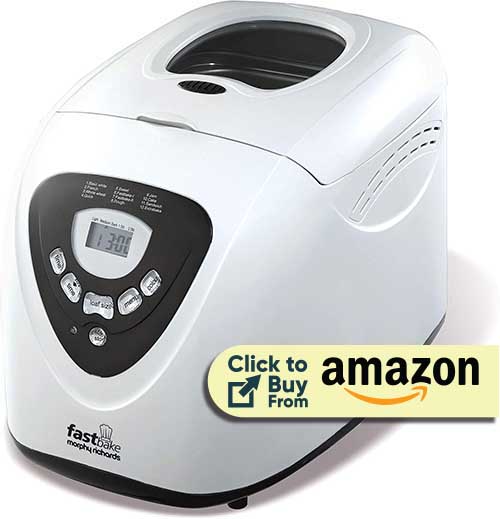 About this item:
Prepare bread loaves of different size as this bread maker gives you an option of sizes
In addition, it also has a delay timer so you can delay the baking time for up to 13 hours
With this Bread Maker, a product instruction manual with all the gluten-free recipes is available
You can not only use it for baking but also you can prepare marmalade and mouth-watering cake by using this item
14. Homemade Bread Kit
Want to start baking bread at home? Then, take a look at the homemade bread kit. It includes all the necessary tools that will help you to start baking at home. To provide you with a professional guide about baking, this kit also has a basic recipe book.
So, let's start baking bread at home. No doubt it is a wonderful addition to your bread making equipment.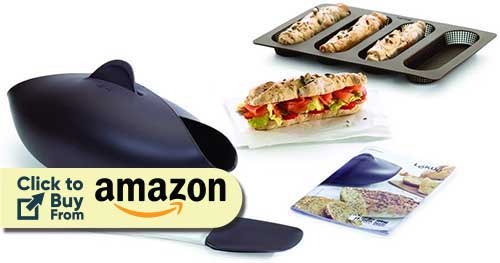 About this item:
This kit includes mini baguettes molds, a spoon, and a bread maker
Made of 100% Platinum Silicone
Heat resistant up to220°C
Also, dishwasher safe
In addition, it is also microwave and freezer friendly