1. Personalised Chopping Board,
Personalised chopping board is made of birch wood. It is very useful gadget for kitchen. Is will save your surface.
The text on the board is totally customizable you can choose the word or name you want to engrave on it. The text displayed on the board is may different in size. We adjust your text on the board as its suite the item.
The board has hygienic grooved edge that will prevent your food from running off the board onto the kitchen surface.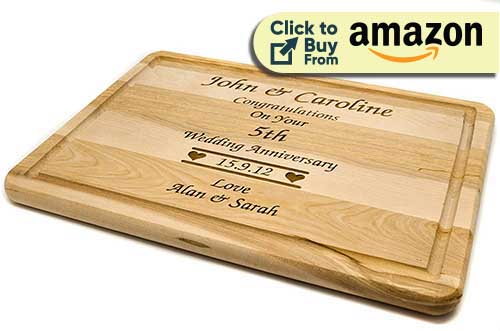 Give this chopping board gift to any chef, friend or family. This board is great for everyone who loves cooking.
2. Personalised Baker Rolling Pin
This beautiful Rolling pin is made of pure wood and the text on it is customizable.
You can tell us what text you want to put on it. You can tell us the name of your love ones to engrave on the rolling pin. It will increase the beauty of your rolling pin. It is best for gift for your family friends or any chef.
It is specially made for the cooking lovers. You can also tell us to engrave the message on it below the name.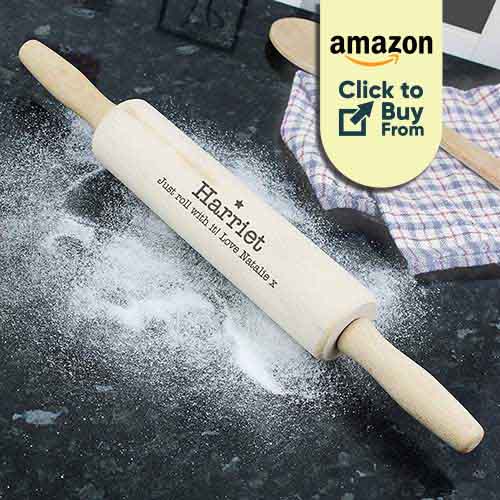 The message length can be up to 40 characters and the name can be up to 15-character long. All the personalization is case sensitive and we will engrave it on the pin as you will enter in the box.
3. Glass Pastry Board
Glass pastry board is made of beautiful toughened float glass. It is made to safe the surface of your kitchen.
You can use it to prepare baking ingredients to bake sweet baking things. You can also use it as serving board.
This board having a feature of non-slip that make sure your food doesn't slip from the board while cutting.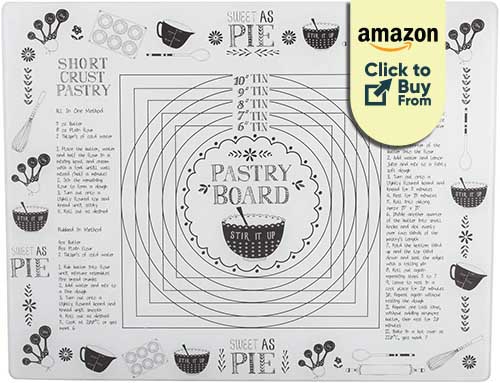 We call it pastry board because it's print with professional pastry recipes and also the measurements markings for precision rolling.
By using this board, you can make perfect pastry. This is a perfect board for the professional chef.
4. Buttercream Smoother Comb
Buttercream smoother comb is used to make beautiful texture on the cake. It's is a best gift for the bakers.
In these days every love to bake cakes at home so we made these combs to beautifully decorate the cake.
First bake a cake then put cream on it and give the beautiful texture to the cream. Your kitchen must have this gadget.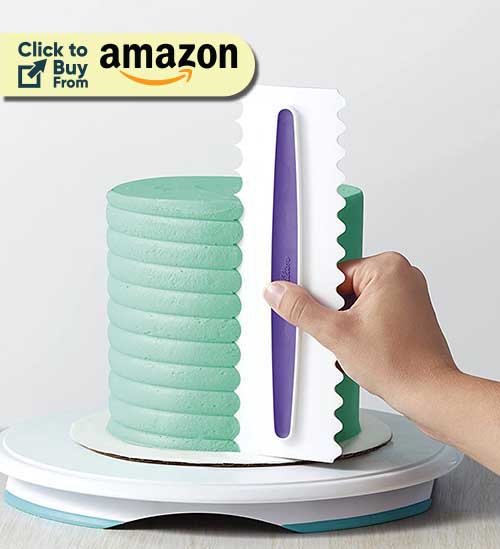 If you are good in baking sweet cakes make them more attractive. Your child will become happy by seeing the beautiful cake. Bake sweet cakes for your visitors and make your moment delightful with them.
5. Professional Piping Nozzles Set
Professional piping Nozzles set contains a piping bag and 6 different style stainless steel nozzles.
Very easy to use this piping bag for putting cream on your sweet cake to make it more attractive. Each nozzle has different design just put any nozzle to the bag start creating different decorations. It will increase your baking skills.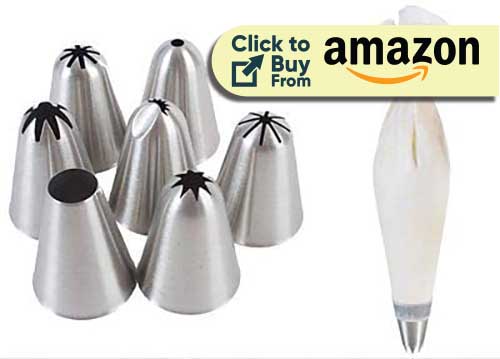 With the help of this piping bag create sweet and beautiful cakes for your children's birthday or Christmas. Beautiful piping bag can be a best gift for a person in your family, friend or any chef. It's a great gift for baking lovers.
6. Rubberwood Book Holder
It is very difficult to hold recipe or cooking book in your hand while cooking so we made this traditional design book holder stand is made from the rubber wood.
Color is beautiful cream brown and it has word Recipes engraved on it's top. Rubber wood recipe holder is best for holding your recipes in kitchen while you are baking because it has three adjustable angles so you can view your recipe in any angle easily.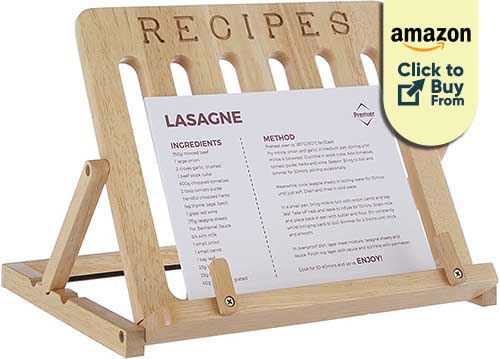 Hold your cooking book with this holder it has two sporting hooks that will provide suitable support to your cooking book so buy this beautiful gadget and make your life easier.
7. Measuring Cups and Spoons Set
Everyone knows that to bake any tasty food you need to measure the perfect amount of ingredients.
So here we have measuring cups and spoons with beautiful silicone grip which will help prevent your hand from touching the higher temperatures.
Also make these measuring tools anti-slip and comfortable. You can remove these silicone grips if you want deep cleaning and put them back easily.
Your kitchen must have these measuring tools as you can measure the right amount of milk, oil, water, syrups, salt, nuts, pasta, rice, flour or other dry and liquid ingredients. These tools give accurate measuring in quick way.
8. Balcony Shirts 'Real Men Bake Bread' Apron
Cooking lovers need to wear apron while baking to save your cloths, so buy this beautiful apron specially made for baking lovers.
It has a bread illustration on it saying "Real Men Bake Bread". These days every one wants to eat breads most of them want bake the bread at home.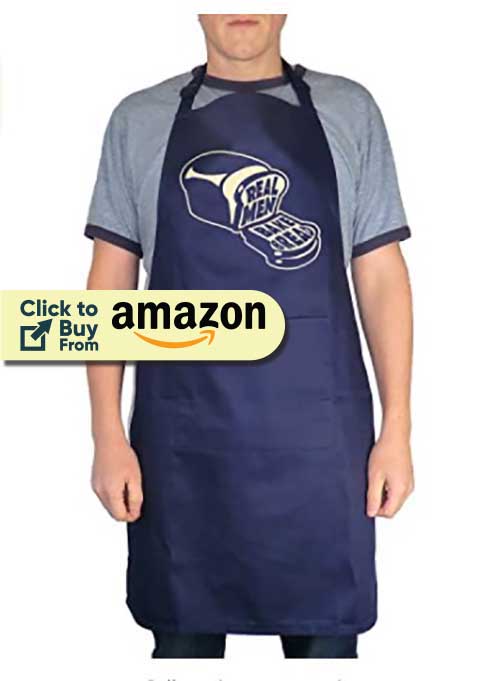 This beautiful Apron is made of pure cotton, buy this apron and show your baking skills in the kitchen. Ames your family by baking delicious bread for them.
9. Roll-Up Baking Mat
Roll-up baking mat is specially made for rolling pastry. It has measuring printed on it so you can measure the size of your pastry easily and measuring go from 0 to 54cm along one edge and 12.5 to 30cm diameter in the middle.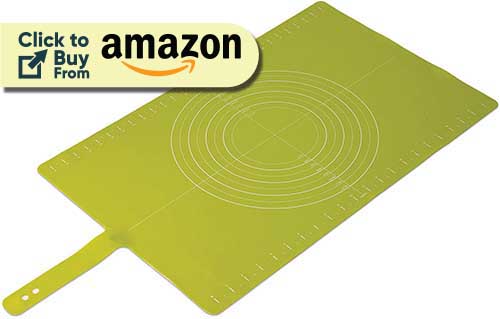 This beautiful Board is dishwasher safe and integrated strap keeps mat rolled for convenient storage. Mat has large rolling area 74 x 27cm. This is beautiful gift you can give it to baking lovers it will be a great gift for them.
10. Bread Preparation Kit
Its great design makes it possibly make real homemade bread in one beautiful container this container is made of 100 percent platinum silicon and it allows the steam to circulate inside.
This functionality make dough moist and prevent the bread from drying out. Bread container can be used in oven and microwave oven safely and this container is also dishwasher safe.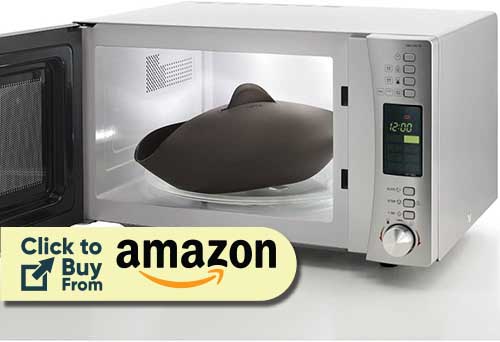 Made of 100 percent platinum silicone to withstand high temperature of up to 220-degree C. If you love baking your kitchen must have this Bread preparation kit.