1. Botanic Garden Cake Stand
Botanic Garden cake stand is a beautiful stand made for serving sweet cake to your love ones. It comes with a wonderful gift box which make it perfect gift. You can give this gift to the people who loves baking.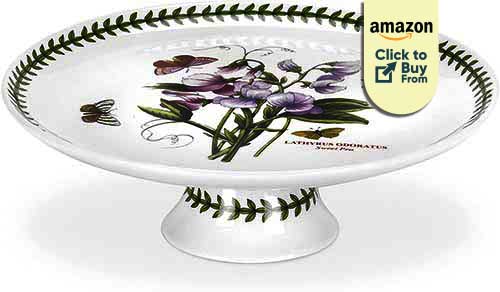 Buy this gift for your wife and let her serve you the sweet cake in wonderful way. You must handle this stand with care and wash it only with hands. Stand is made of Porcelain material.
2. VonShef Waffle Maker
Everyone loves eating Waffle because they are sweet and delicious. Vonshef Waffle maker is best for make sweet waffle. It's easy to clean and it comes with non-stick plates so you can bake waffle easily and don't mess anything.
You may also Like: Bread Making Gifts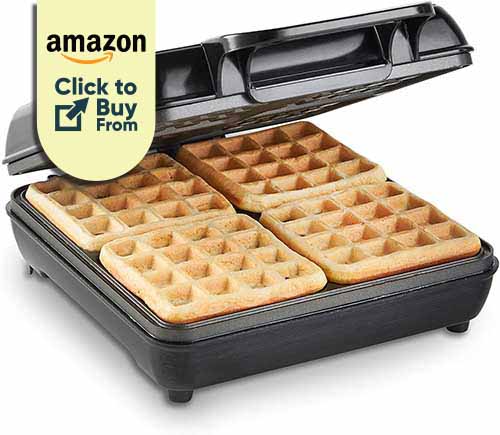 Automatic temperature control system controls the temperature during baking waffle and it also has cool touch handle. Available in beautiful stylish stainless steel which looks good on every kitchen countertop.
3. Heston Blumenthal Dual Platform Scale
Heston Blumenthal Dual platform scale provide finest accuracy. To make sweet recipes you need accurate amount of ingredients so this scale will help you to get the accurate amount easily.
Heston Blumenthal dual platform scale contain highest precision of sensors and dual display where you can easily read the amount of your food and you can measure the maximum amount of 10 kg. Scale comes with 15 years of guarantee.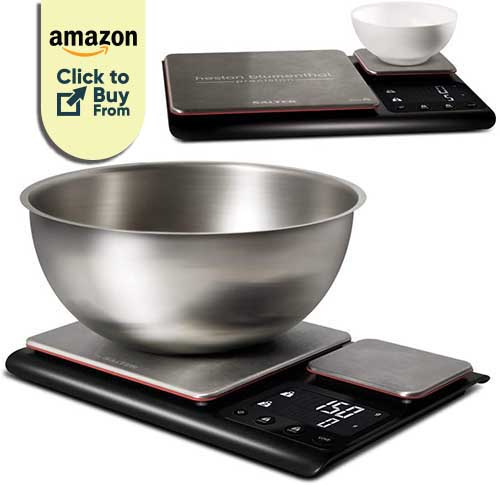 Your kitchen must contain this helpful gadget comes with 3 standard AAA batteries. It also has multiple functions so you can measure different amounts easily it has ZERO button on it to start from zero and keep adding your ingredients.
4. Ceramic Cake Stand with Glass Dome
Ceramic Cake Stand with Glass Dome is perfect for serving sweet cakes to your visitors, it has a glass lid which make it more beautiful.
As visible properties of glass your cake will be visible from outside and this will make this stand beautiful serving stand.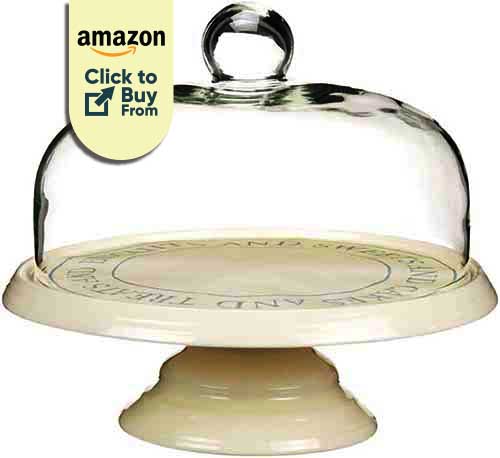 After baking sweet cakes everyone wants to sever the cake in beautiful way. Because this stand has glass lid its recommend to wash it with hands. Ceramic Cake stand comes with 12 month guarantee.
5. Food Preparation Set
Your kitchen must have this beautiful food preparation set because this set has almost everything you need in food preparation.
These things included in this set are made in way to fit in each other so that it saves space in your kitchen.
The mixing bowls have large non-slip bases and wide carry handles so you can handle bowl easily while mixing your ingredients.
You may also Like: Top 10 Afternoon Tea Sets with Cake Stands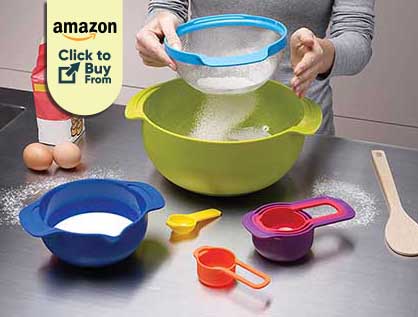 It includes a stainless steel mesh and large colander, 4.5 liter mixing bowl, 3 litter colander, 1.65 liter sieve, 0.5 liter mixing bowl, 5x measuring cups.
6. Stackable Bakeware Set
Stackable Bakeware seven-piece baking is made for baking lovers. They are made in way you can get everything you need in baking so it could be a beautiful gift for those who love baking.
It contains a roasting pan so that you can roast the food you want, square cake tin, loaf pan, muffin tin, cooling rack, and a small and large baking tray.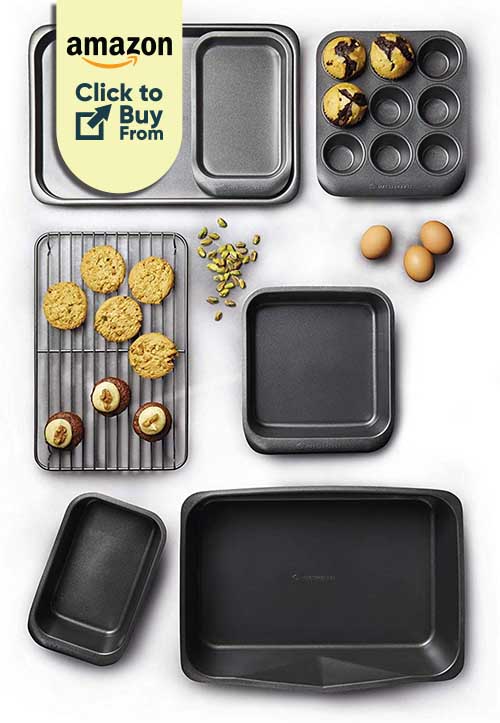 All these things are dishwasher safe and this set also include two oven trays a deep roasting tray.
7. Vertical Bread Bin with Cutting Board
In these days everyone wants more space in their kitchen to fit more things in kitchen so we made this Bread bin in way so that it doesn't took more space as the other bread boxes and save your bread for many days or even week and this save your time you don't need to make bread again and again, make the bread that you can use in next day and save them in this bread bin.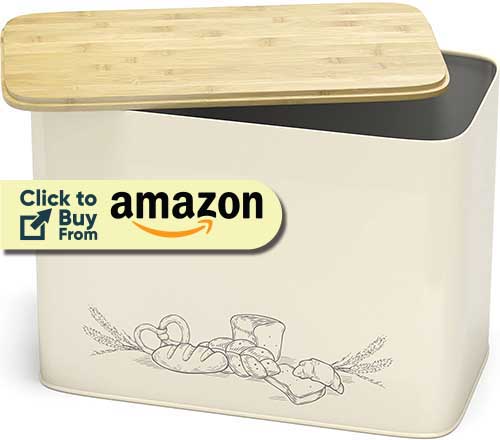 We also give a cutting board as it's a need of every kitchen, you can cut your food easily on it.
8. Deep Fill Pie Maker
Deep fill pie maker is made for make sweet pies at home, it's a wonderful gadget for those who loves baking because this brilliant device allows you to make two sweet deep fill pies in only ten minutes.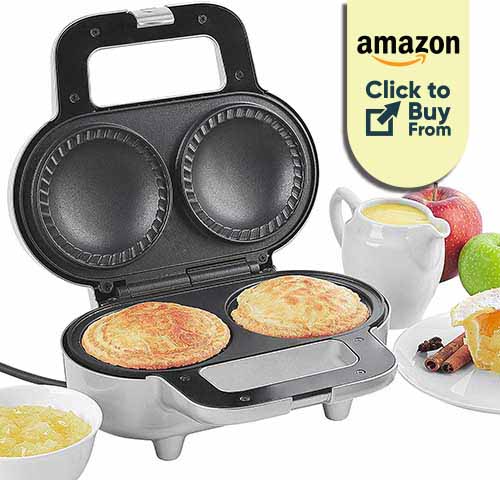 Pie maker is designed in way so you don't mess up your baking, it contains non-stick plates so you can remove your pie easily when cooked. This is a beautiful gadget for your kitchen comes with safety lock and cool touch handle.
9. Electric Hand Mixer
Mixer is a need of every kitchen because almost everything we bake is made by mixture of different ingredients. Electric hand mixer will speed up your work as it comes with 5 speeds plus turbo functions.
You may also Like: Personalised Baking Gifts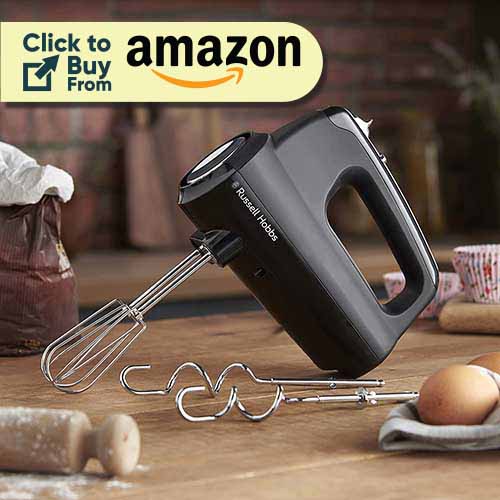 Electric hand mixer has a speed for every need some mixtures need slow speed and some need more speed so you can easily control speed. It's a best gift for bakers.
10. Steamer for Cake Craft and Cake Decorating
Steamer for cake and Craft and cake decorating machine is designed in a new way to decorate your sweet cakes and its good for use on the projects created with sugar paste, flower paste or gum paste and it can also be used to remove unwanted icing sugar, powder sugar or cornflower form cakes.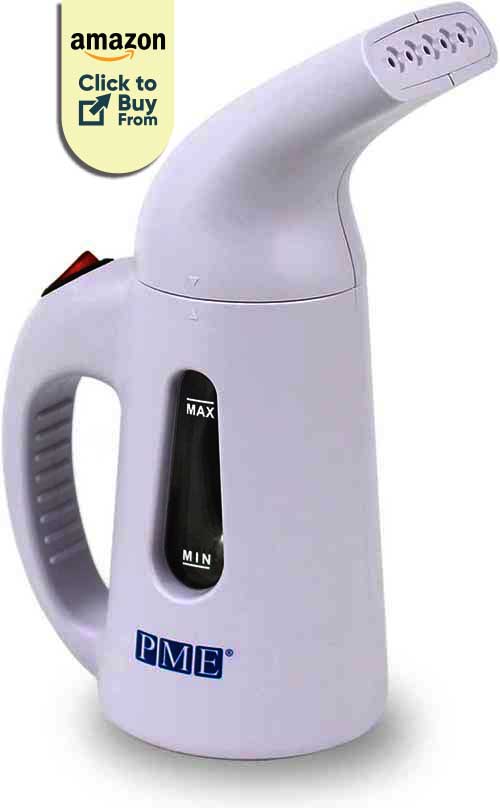 Now bake in efficient way and make sweet and delicious cake.