Ungrateful, thankless, or ehsaan faramosh, all are the representatives of a person who doesn't remember the great doings of others. Talking or looking for people whenever you feel the need to get something from them and after fulfilling your needs say goodbye without appreciating their work and help for you, is the actual way of ungratefulness. However, there are many other ways in which the habit of ehsaan faramosh or ungrateful people is explained like in quotes form. As ehsaan framosh is a word of Urdu language so this article presents you the ehsaan faramosh quotes In Urdu.
Ehsaan Faramosh Quotes in Urdu:
Forgetting about those people who are the best supporter during the time of your need, is something which we called ehsaan framosh in Urdu language and ungrateful in the English language. To explain the different aspects of ehsaan framosh we will use Urdu quotes. As,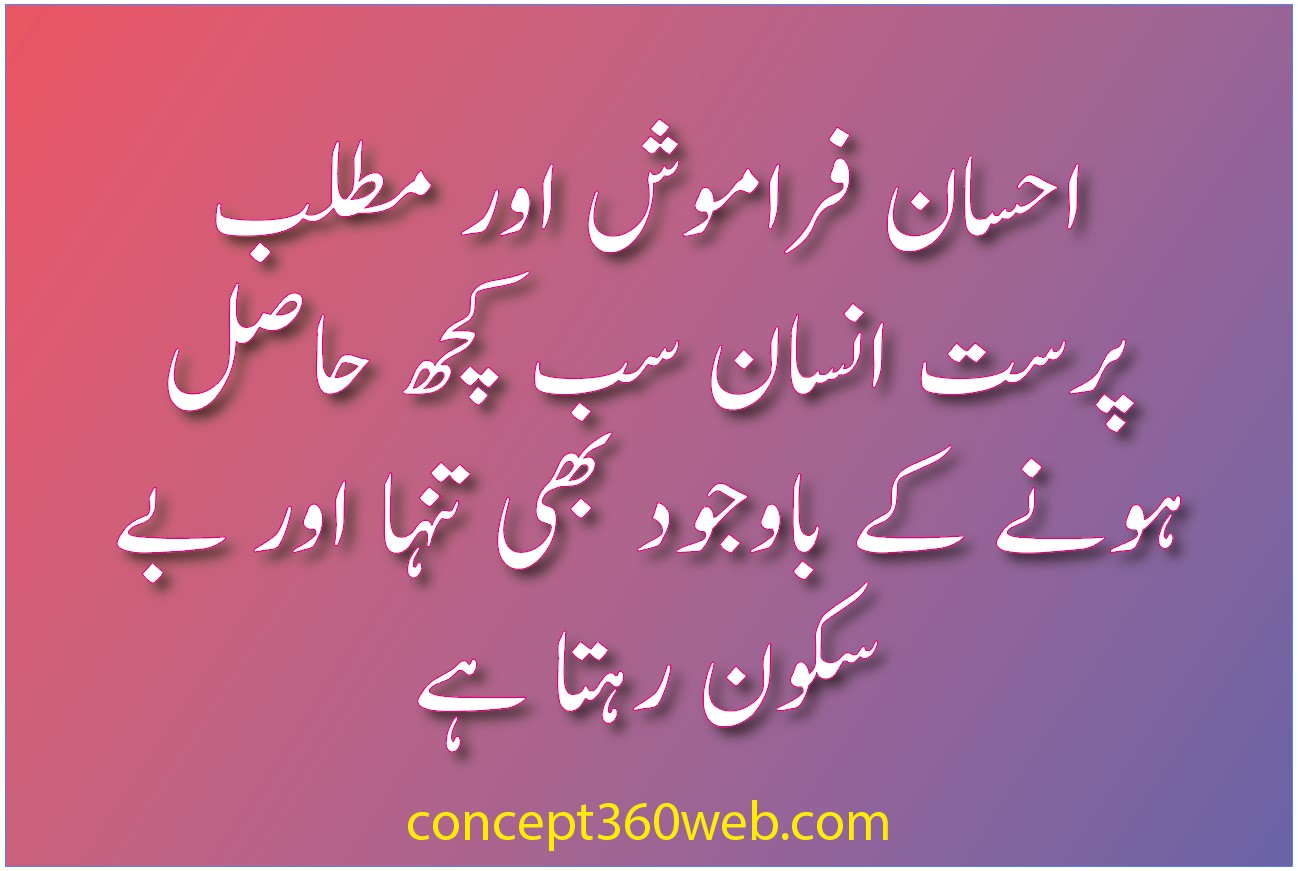 "Ehsaan faramosh our matlab parast insaan sub kuch hasil honay kay bawajud bhitanha aur be sakoon rhta hy"
احسان فراموش اور مطلب پرست انسان سب کچھ حاصل ہونے کے باوجود بھی تنہا اور بے سکون رہتا ہے
It means that you cannot be happy and loving to anyone with your thankless behavior to others. As an ehsaan framosh person leaves the people in his good time and starts looking down to them in his good times, that's why no one wants to have them in their lives.
To explain such behavior of ehsaan faramosh people there is another Urdu quote,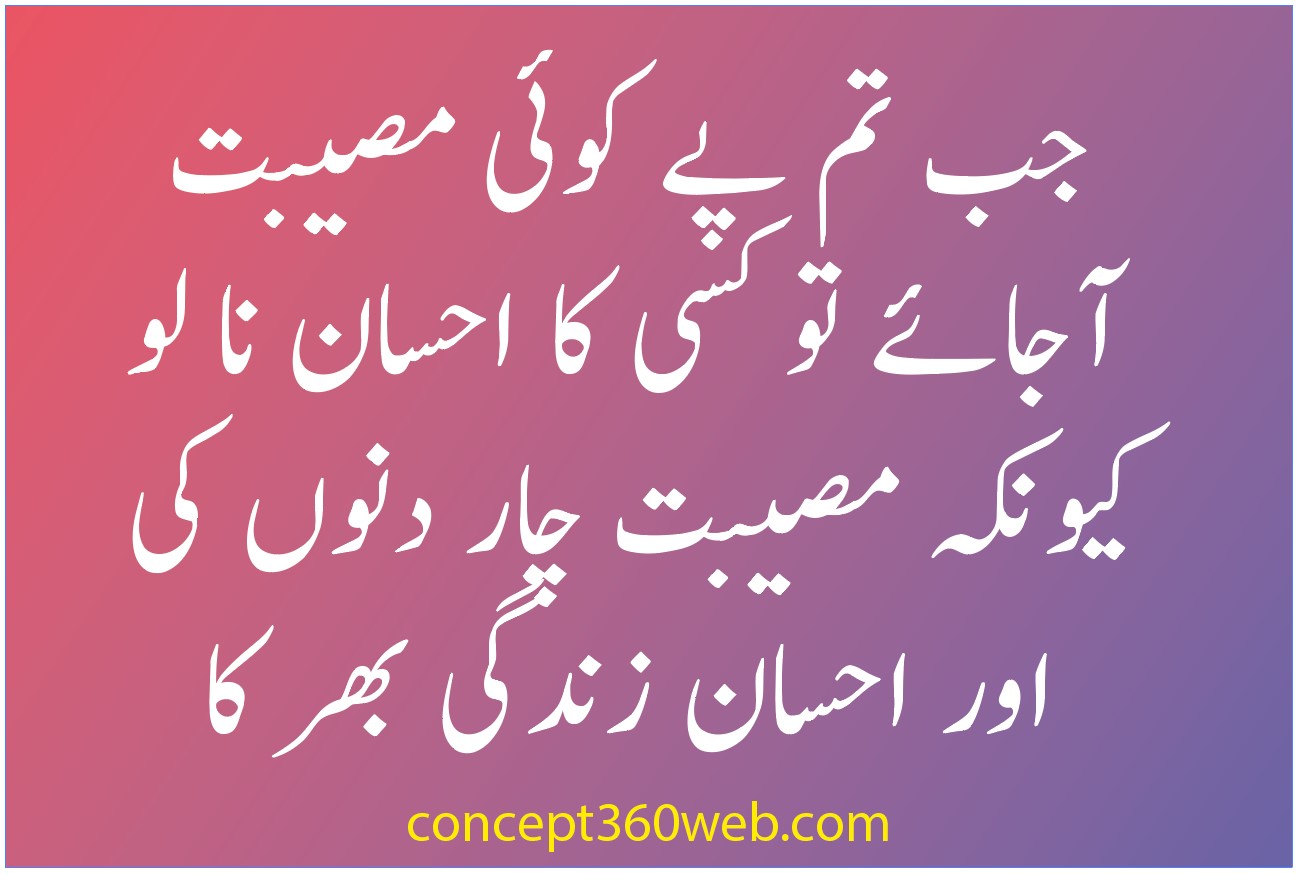 "jab tum pe koi musibat aajay to kisi ka ehsaan na lo kiunke musibat char dino ki aur ehsaan zindagi bahr ka."

جب تم پے کوئی مصیبت آجائے تو کسی کا احسان نا لو کیونکہ مصیبت چار دنوں کی اور احسان زندگی بھر کا
The behavior of ehsaan faramosh people causes serious damage in your relations with them, to avoid all such circumstances, our elders focus on not asking for help from ehsaan faramosh people during the hour of need.
And also they support their statement with the fact that a ehsaan faramosh will remind their good deed to you at every stage of life. So, it is better not to ask for help from ehsaan faramosh people in your life.
Jo shakas kisi ke ehsaan ka shukar guzar nahi hy wo ayenda zaroor is se mehroom ho jata hy

جو شخس کسی کے احسان کا شکر گزار نہیں ہے وہ آئیندہ ضرور اس سے محروم ہو جاتا ہے

Ehsaan ki khoobi is k nah jitlane per munhasir hy

احسان کی خوبی اس کے نہ جتلانے پر منحصر ہے

Jub kisi ehsaan ka badla ada kerne se tere hath qasir hon to zuban se is ka shukria zaroor ada kro

جب کسی احسان کا بدلہ ادا کرنے سے تیرے ہاتھ قاصر ہوں تہ زبان سے اس کا شکریہ ضرور ادا کرو

Ehsaan ka badla ada kerna acha akhlaq hy

احسان کا بدلہ ادا کرنا اچھا اخلاق ہے

Qarz beghair taqaza ky ada ker dena qarz dar ki taraf se ehsaan hy

قرض بغیر تقاضہ کے ادا کر دینا قرض دار کی طرف سے احسان ہے

Mohtajon ko mohlat dene mein koi ehsaan nai balke ye adal o insaf hy

محتاج کو محلت دینے میں کوئی احسان نہیں بلکہ یہ عدل و انصاف ہے

Ustaad ke ehsaan ko faramosh kr dena aik musibat hy or aik qatil bemari hy jo ilm ki barkaat ko zayel or batil kr deti hy

استاد کے احسان کو فراموش کر دینا ایک مصیبت ہے اور ایک قاتل بیماری ہے جہ علم کی برکت کو زائل اور باطل کر دیتی ہے

Ehsaan faramosh aik qisam ki kamzori hy, mein ne aaj tk kisi alah qabliat k malik ko nahi dekha jo ehsaan faramosh ho

احسان فراموش ایک قسم کی کمزوری ہے، میں نے آج تک کسی اعلیٰ قابلیت ک مالک کو نہیں دیکھا جو احسان فراموش ہو

kisi k ehsaan ko apna samajh lena bohat barhi bewaqoofi or nashukri hy

کسی کے احسان کو اپنا سمجھ لینا بہت بڑی بیوقوفی اور ناشکری ہے
You May Also Like: Best Quotes in Urdu